Went to the Parade of Homes again this year.
Even though our home is completed, we still enjoy touring the beautiful homes local builders open up to the public.
This year the homes were modest, ranging in price from $250,000 to $1.3 mil. Most remarkable thing we saw was an indoor 1/2 court basketball court. Full 2 stories high, on a level below the basement. Wow!
In general the homes were so similar to each other. Only a couple higher end ones stood out. All were lovely despite being the same.
Things I noticed:
- Smaller kitchens, more mid range appliances, a few with lovely formica counters. Still alot of granite. Layouts on a couple were just not thought out well. But maybe I'm biased having read these forums.
- About half had geothermal.
- Colors were mostly warm neutrals, with some beautiful blues in certain rooms. Only one red room that I remember.
- All but one had vinyl or fiberglass windows. The lowest priced one had the wood windows.
- Fabulous landscaping. I thought perhaps some of the $$ should have been spent on the interiors.
- More carpet than I expected. Lots of hand scraped wood floors. No exotic woods, saw mostly walnut, hickory and oak. Not much tile.
- Lots of stained/stamped concrete inside and out. Most had beautiful upgraded garage doors.
- LP Smartside was the choice on most homes. With accents in stone and cedar look siding.
Here are a couple pics I took. Sorry for the bad quality, it was hard to get good shots with the people walking around.
This was a lovely kitchen, one of the best I thought except for the backsplash. It was too busy for the granite, and almost made you dizzy.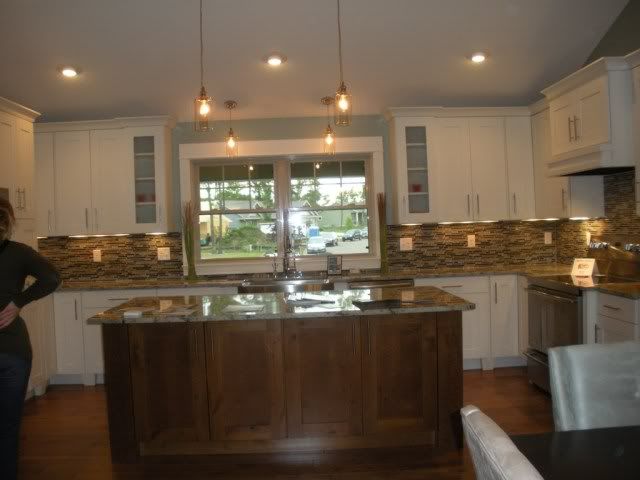 Another attractive kitchen, but short on cabinets with extremely narrow walkways. The walkway in front of the sink was a major thoroughfare. Not good!
At first glance, this kitchen seems gorgeous. But a closer look revealed many missing major elements, and poor craftsmanship. Very dark, too. Needed a bigger window.
This was my favorite. Well thought out, gorgeous colors and elements. Whole house was wonderful.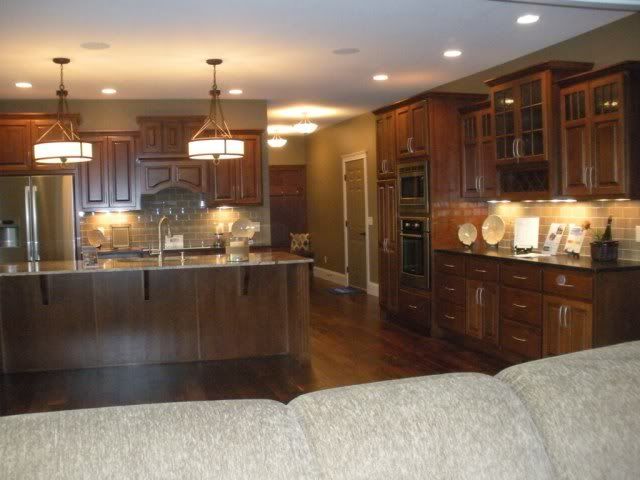 The granite on the island is gorgeous. Wonder what it is.
One house that was quite different was this farmhouse. Plain on the outside, but such wonderful choices on the inside. They carried the farmhouse theme throughout. Even board and batten walls. The floors looked like they were 100 years old. Very very nice!