How to make a "built-in" fridge look more built-in
trippknightly
July 27, 2013
I'm considering getting a built-in 42" KitchenAid refrigerator for a new kitchen. It will be panelled not stainless. Model is KBFO42FTX (see http://www.kitchenaid.com/shop/major-appliances-1/refrigerators-2/refr igerators-3/-[KBFO42FTX]-402070/KBFO42FTX/). So far I'm weighing the pros and cons and thinking I can't justify going higher end, all things considered. But I'm still torn. One thing that really annoys me is the trim for the thing seems only available in stainless -- see attached photo (I've seen white trim available on its sister fridge from Jenn-Air; the cabinetry will be white). The Jenn-Air is the JF42NXFXDW: http://jennair.com/appliances/details/JF42NXFXDW.
I know the hinge on this KA is non-articulating, so that right there further impedes how much of a truly-integrated look I can get but in the attached photo the stainless trim ain't doing it for me though I could live with it... eventually!
Maybe w/ white cabinetry the stainless trim would be less noticeable vs picture, or maybe I could paint the stainless trim on the sides white (never mind painting stainless is tough), or maybe the handles can be swapped w/ something more consistent w/ rest of cabinetry's hardware (likely antique bronze).
Any input?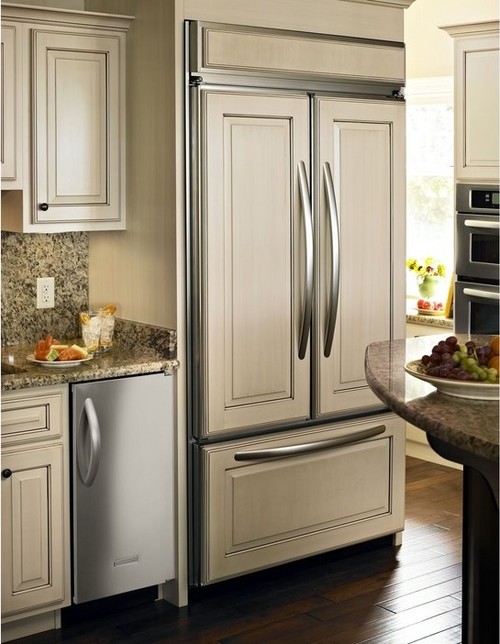 This post was edited by trippknightly on Sat, Jul 27, 13 at 18:07