Another question...
Hi everyone,
I'm fairly new to bathroom renovations, so please bear with me.
As I said in my message about marble tile, we have a tiny bathroom 3.5x5.5 that we're gutting. (Well, our contractor is gutting.) Anyway, originally, there were two sconces and a mirror over a tiny little vanity shoved over to the left--the lights and mirror were not centered over the vanity. I hated the look of this. See before picture, below: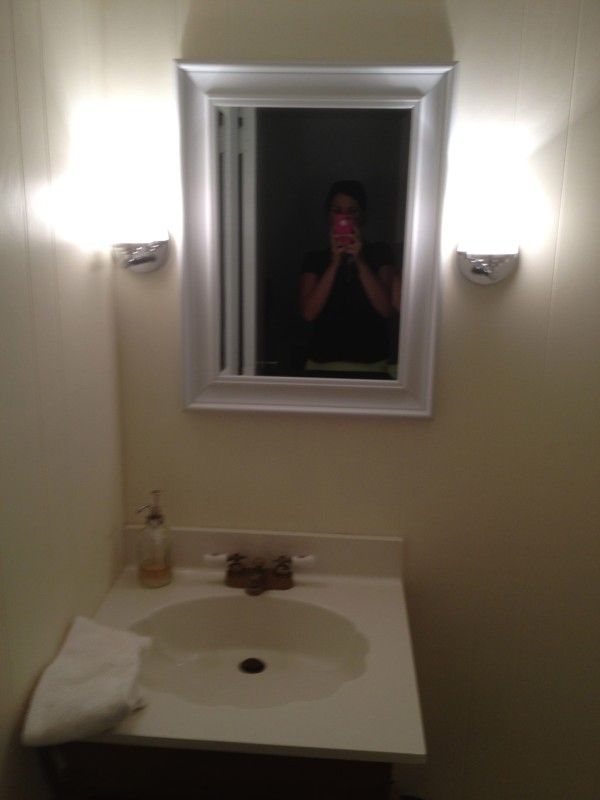 So, one of my goals was to fix this stupid problem. Of course, upon ripping out the paneling and drywall, we discovered that the house's main stack is placed so that you CANNOT center the sink. Since the room is so small, I bought a pedestal sink (a small one, with rounded edges) to save space and make it feel bigger. Anyway, so the short story (sort of ) is that the sink has to be over to the left. My contractor said that what we could do was get a single wall light to center above the sink (max 24 inches wide) and a mirror (max 24 inches wide).
But now I'm worried that everything's going to be shoved over to the left.
Stupid plumbing.
Based on the picture, what do you guys think? Am I making a mistake centering everything above the sink? Apparently the sink will have to be shoved over to the far left, which I hate, but the guys showed me what the issue was today and theres' really no other solution. :( :( :( And before, it just looked stupid to have this tiny vanity over to the left with the mirror and sconces uncentered above it. Right?
Unrelated: I really need light fixture ideas. I'm using chrome fixtures, hoping for an elegant look. I've been looking at Lamps Plus but at this point I'm just overwhelmed by choices. Again, they need to be 24 inches wide max, featuring chrome as the finish.
Feeling overwhelmed and frustrated and like I'm having to make a lot of choices in a rush!