Help with floor plan please
prescotthouse
June 10, 2012
I posted about this plan once before, but I think I've finally figured out how to include the plan with the posting, however the measurements are very small...
My husband and I are beginning the building process having just closed on a 1/2 acre steeply sloping lot (not unusual in our area and most builders have experience with these kind of lots). Our chidren are grown, so we have two bedrooms upstairs and the potential for two bedrooms and a bath downstairs in the unfinished walkout basement. Because it is a view lot we want the kitchen, living/dining room and master bedroom on the view side which faces north with the best view to the north/northwest. I'm concerned about the space for the steps and I would also like the laundry room closer to the master bedroom. We don't particularly care how big the master bedroom is - I'd rather have that space in the great room area. Below are two plans I've developed on Floorplanner - your comments would be appreciated.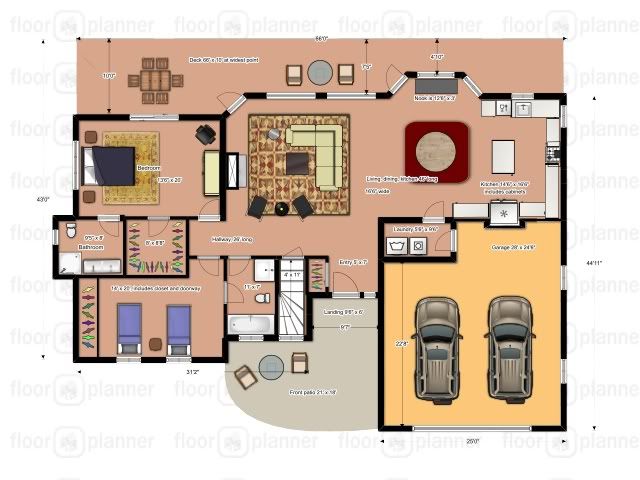 This second plan is has basically the same measurements as the first, with the bath and steps to the basement rearranged. The house is roughly 1800 square feet and we can go no wider than 70 feet on the lot.
There will be a deck off the north side of the house and a patio on the south side, surrounding the front entry and virtually no yard except for the front patio.