My Christmas Decor (pics)
yachter123
December 9, 2010
Hi to all, I've had so many things to deal with, some good, some bad, I've decided to call it our "The good, the bad & the ugly" period right now!
I have not been able to keep up here, but do sneak in & love all of your holiday decor that I've been able to see.
Love the woodsy santa vignettes I've seen. Oh sure, tempt me with them now, it's not bad enough I'm hooked on Chef Santa's!!!!
Everyone's tables look great & Karen, cannot believe all the decor you have out already & those curios are so much work, but such a joy for all of us to look at & enjoy. I bet your family really loves seeing all of them at Christmas time! Your nutcrackers on the mantel look fab and aren't you glad you purchased that large one who stands on the floor! I just love him!
Kathleen, have looked at your blog, always check there too & as always, your tables are fabulous and I really enjoy them.
OA, see you started a blog & had a minute to check it out, lots of work those blogs, but you're off to a great start everything looks great & love your story telling about each thing.
Punk, thanks for missing me, it means alot. Love your blue & white snowball table & those plates are to die for, also your F&F table.
Well besides many things going on, I've had sinus infection on & off for about a month now, plus everyone in our house is at some stage with headcolds, coughing, blowing etc. Not a good winter for us so far!!!
My grandson's taping in September went well, the crew arrived on a weekday & my son was out of town for work, so I was in charge til he arrived home the next day. They did alot of taping of the just normal things a 14 year old does, filmed him riding his bike to school, him playing his guitar & singing a song he wrote for the service at the schools chapel, then they filmed him & his band playing at another big church for the youth group in a nearby town. That evening they also filmed him & his band playing at a teen club, so it was long day, started about 7 a.m. & ended about midnite!
Rick was doing a book signing in the town where I tell you I go for garage sales, the very upscale homes etc. on the nite the crew arrived (my son out of town) and they wanted to film my grandson & Rick at the book signing.
Funny, they asked if I was familiar with the town & could I get him there that nite! LOL I didn't tell them it's like my second home & I know the town better than my own! LOL LOL
First pic is Dustin with Rick and a good friend of ours.
Second pic is Dustin & friends holding up the production company sign at booksigning.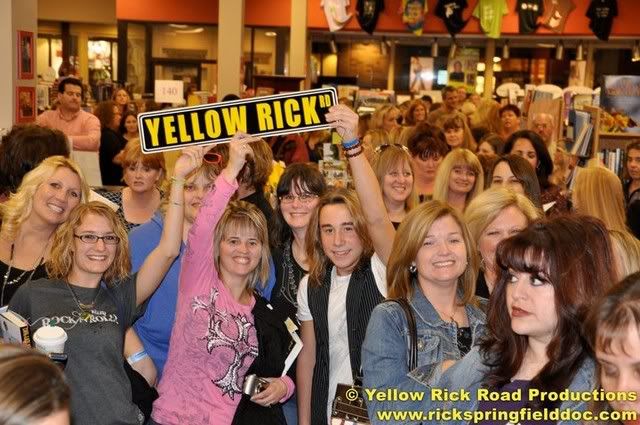 Finally, over the weekend, I tried to muster up some energy to do a bit of decorating, and I admit, I scaled it way back this year due to being sick etc.
I used alot of things I had last year, but used them in a different way or area.