Ya Better Watch Out, Ya Better Not Pout, Santa C is Coming 2 Town
jeannespines
December 13, 2010
Are ya singing along? He's making a list, ckg it twice:
Gonna find out who's naughty or nice:
Santa Claus is coming to town!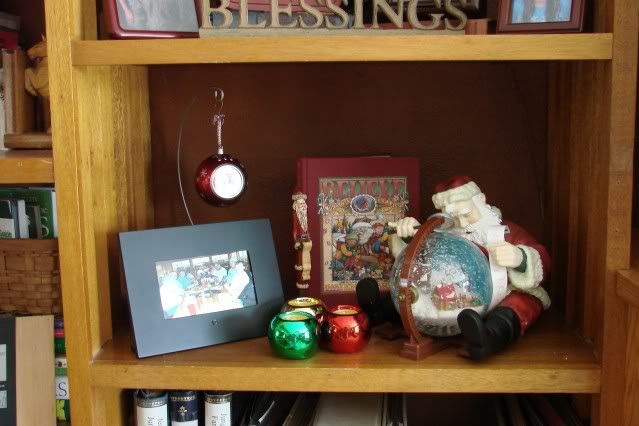 This vignette is on book shelf in LR (I showed you Santa & deer one in an earlier post)...Santa globe DH & I bought after Christmas at our local drug store some yrs bk...spins around & plays snippets of Christmas songs ...digital frame a gift from DH...hanging ornie from oldest DD with Christmas pics of her family...colored balls ornie candleholders from a Secret Santa yrs ago at work...pencil Santa found at a GS for 50 cts this summer.
You better all be good! LOL! Jeanne S.
I've been on the computer too much today!