Woodsy Santa & a bit of Christmas Decor
jeannespines
December 8, 2010
A busy 5 days away from home...enjoyed getting some one-on-one time with GK's! And now after a couple additional days of holiday shopping, I'm back to decorating.
I just loved Purplemoon's Woodland Santa vignette...this is the pic of it:
This shelf in my LR has my gifted Santa & also a fav pic bk that I love ...purchased the deer last March on vacation...for displaying with this book "Stranger in the Woods"...
I kept thinking how nice a "Woodland" Santa would look here instead...so yesterday, while Christmas shopping with DH I came across this one at HL 50% off...so he came home with me...but ALAS, he was too tall for my shelf...so I think he found a home on the porch: (I just love 'em)
Here's a close-up...told DH I think he needs a "willow stick" for a walking stick...this one is kinda fancy: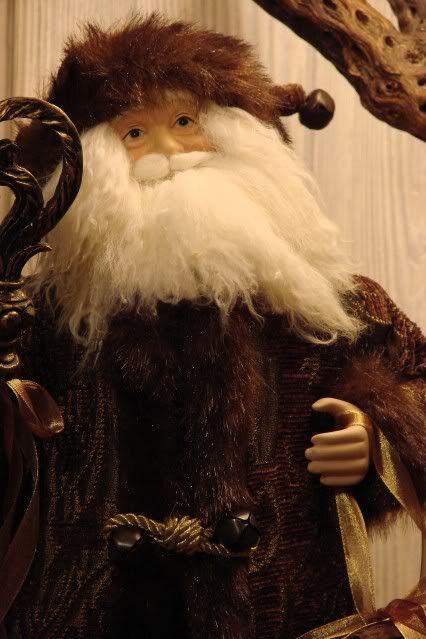 I have not finished decorating in this vignette yet...I have some other "woodsy" decor...but I wanted to share him...thanks to PM & Enablers R Us!
I did get my Vine tree up in the DR before leaving last week...it's got 'rice lights' & a few red cardinal resin birds...I painted a couple more white birds (red now):
Here's a close-up of red garland...it added a bit more color:
You can't see the birds very well, but there's one in the lower right hand corner of this pic...the glass garland adds more sparkle to the tree with the rice lights: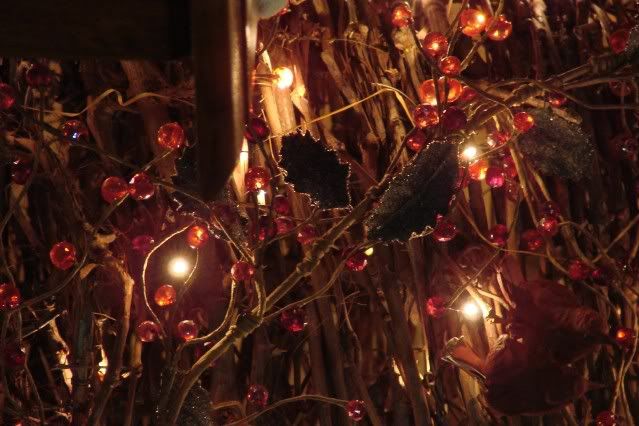 Also been coveting an apothecary jar ...well, in Oct, I bought one with 40% off coupon ...amber jar with black metal lid at HL ...& then saw a shorter one that matched on sale last wk...50% HL prices. I'm working with these for my buffet (where I use lots of pinecones & natural items) ...so I don't know if they will stay here...I hope they will look great after I put up pinery & other decor...but here's a start...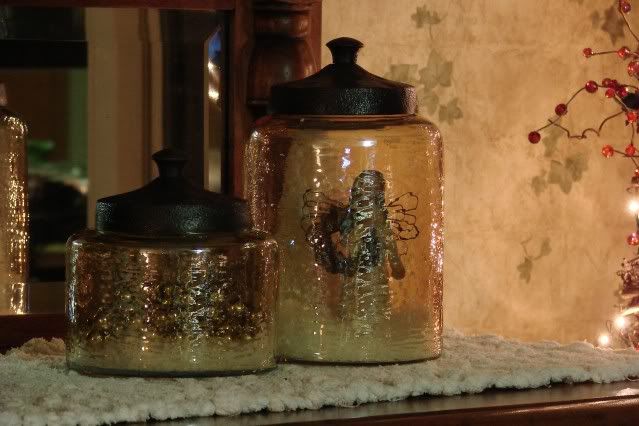 I added a bit of flakey faux snow in bottom of both jars...gold beaded garland in short one & Christmas Willow Tree Angel & a white bottle brush tree in the tall one...you can't see them clearly like in a crystal jar...but it's kind of cool in RL...more like a water color painting...I'm still experimenting with items. Love the light bounces on them!
Last of all, I've been working on centerpc for DR table...I got this wrought iron candle holder with 5 goldish-bronze mercury glass votive holders...bought battery votive size candles for $1 ea HL sale price...added a pretty greenery candle ring & used round placemat underneath it all. I like how it's working but may add something in the center yet. That mercury glass is sure beautiful with candlelight! Here's a close-up:
Ok, that's it...TFlookin' & listenin'! Jeanne S.