Oldie 'Christmas' Finds for next year!
jeannespines
December 29, 2011
I was NOT going to shop for any more Christmas decor (this yr, anyway!) LOL! ...but went to 'Calico Hen House' a fav consignment shop w/a friend & brought these home today:
Kissing Angels Musical: (made in Japan sticker on bottoms)
I found some by Goggling & have put a You-tube link to this pair below. I pd $9.22 for each one ...they are a hard plastic & the boy Angel plays 'Silent Night.'
They are about 9-l/2" tall ....very cute...don't look 'plastic' at all...antiquey looking...here's a description on a etsy site & another pic:
http://www.etsy.com/listing/72808896/vintage-kissing-angels-children-music
And in another part of the store I found this Holy Family...also a 'plastic' but so realistic ...labeled 'Fine Quality Japan' ...pd $6 for the 3-pc set...Joseph is about 7" tall to give you an idea: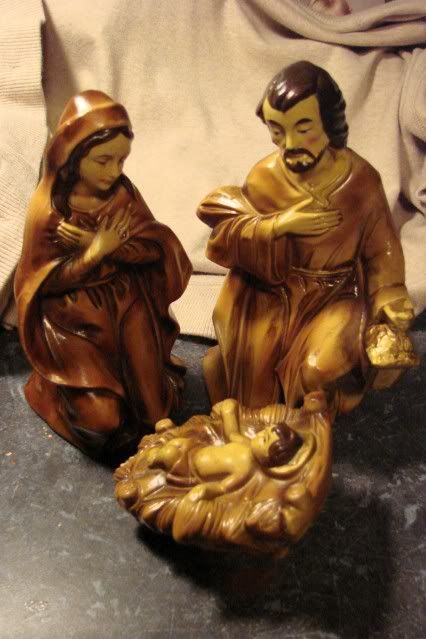 They look very 'woodsy' in person & will be beautiful in a vignette by themselves.
Also I've been looking for a 'cup holder' for my Winter dishes ...now that I have 9 place setting...3 cups sit in Winterfrost tray w/glasses ...but 6 cups needed a place & don't stack good. My friend saw this & it wasn't priced but had 2 other white cups for sale on it...so clerk called the vendor & she said $5.95..>I said 'SOLD!' & it worked out perfect:
It's made of wood & some type of homemade hooks ...DH said he couldn't have made it for that price! So I am happy!
And 1 final share...from a Secret Santa on another forum...reminds me of our 'luvs' here & her talents! These 'JOY' blocks on 2x4 wood, probably mod-podged w/scrapbook paper & then Cricut letters ...aren't they the cutest! This pic is under the tree & 2nd pic I moved them to the wall shelf near the tree...love 'em!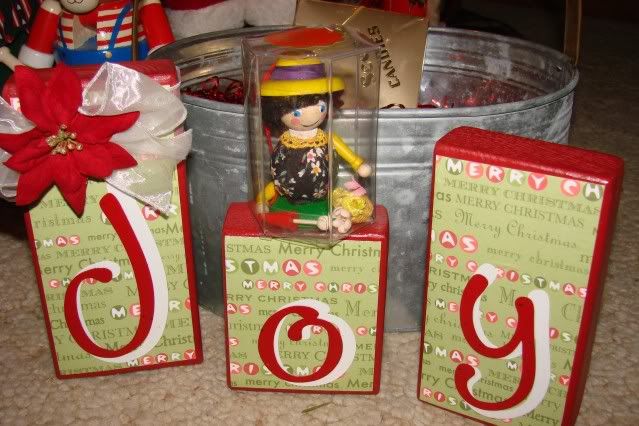 Happy New Year, 'Holiday-ers!' TFLookin'! Jeanne S.
Here is a link that might be useful: The Kissing Angel Music Box U Tube