Crystal Santa & Sleigh Vignette + Cute Lil' Snowmen
jeannespines
December 18, 2010
Here's some pics I took tonight ... remember that crystal Santa & Sleigh (separate pcs not same brand) that I got a few wks ago at a TS. Well, I added some candlelight in the TS or GS stemware ... & crystal Pine tree that I found recently at another TS for $3.50:
This is sitting on the end of my kitchen counter between DR & kitchen...it's sitting on a round silver platter I found for $5 clearance (retail $25) at Kohls...my DGS lost out on this...cause I had it tucked away for a Christmas gift for his bar. LOL!
Here's another view ... the round crystal candleholder is old ...from one of those home party shows long, long ago! The Santa frame I had forgotten about that I had printed off a B&W of the tap dance outfit I wore as a child...Dollbaby is wearing it now:
The pair of silver birds I just got on a Christmas shopping trip with friends...one wing actually is up & has a place for a napkin tucked thru the wing. Here's Dollbaby in case you missed that post: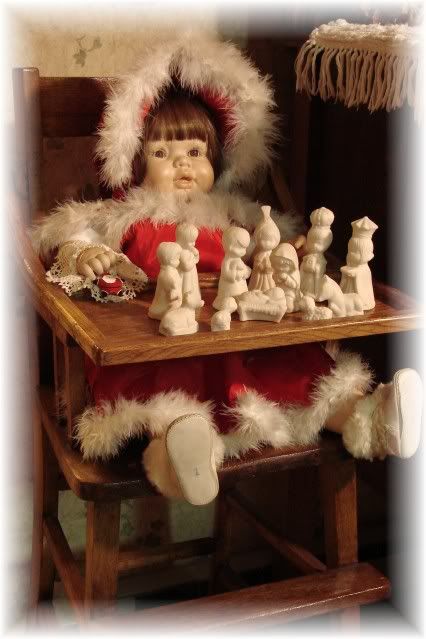 The snowman shelf is old barnwood that DH made for me & old insulators for hangers ...I painted it an off-white some yrs ago...here's the mini snowmen (a gift from a Secret Santa at work some time ago) ... & a print I bought a few yrs back:
Here's a close-up...aren't they just the cutest! Tucked in a little greenery & a tiny faux pine tree. They hang by the sliding glass doors in the DR leading to the porch: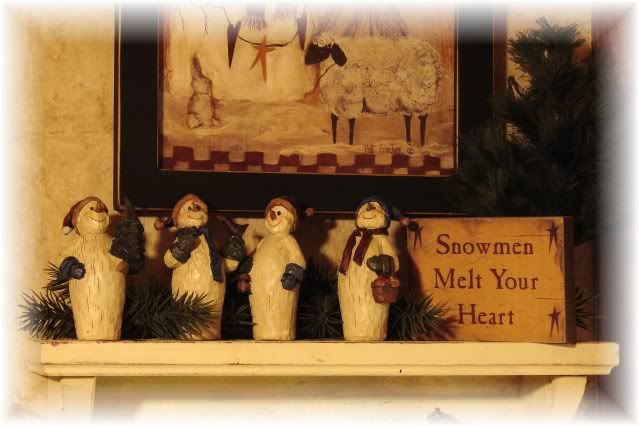 Hope it is a quiet evening at your place ... Christmas is coming so quickly! TFlookin'! Jeanne S.