Simplemat review with pics
So I wanted to write this review as when I went to use this product I couldn't find many reviews online. We bought this at Home Depot when we decided to tile above our fiberglass shower unit. This is the double sided sticky "mat" you can use to lay tile. We're also planning on tiling our ktchen backsplash so we figured this was a good trial for the product.
AFter deciding on our tile layout we started to put up the simplemat. It took me a little while to understand when they say to overlap about 1/4" and how we could then peel the front side off but it worked fine. So we just cut the mat to size and stuck it up on the wall.Pretty simple to do. When you're ready to start tiling you just peel the fornt plastic off and it exposes the sticky "nubs". SO away we went. We did decide on a layout that didn't have too many cuts, as to avoid the tile saw. Tiles need to be completely dry to stick to the mat so avoiding the tile saw was a good thing. We just used a tile scorer to make the cuts. Things went fine for a while. We did have one difficult cut around the shower head that took us about 10 tiles to get right (the kept breaking on us), but it was fine. We also used a mosaic decorative tile on mesh. The rest of the tiles were the standard 4 1/4" tiles. Once we got the basic cuts down putting the tiles up went pretty fast. Definitely easier and less messy then thinset, especislly for a location above my head. We did need to reposition a few tiles and it was hard to pull them off the mat, but we were able to get them off. We left the tiles up overnight and planned to grout the next evening. I went to check the tiles that 2nd night before grouting and some of the mosaic mesh tiles had fallen off the wall. A couple chipped but luckily we had some extra. We decided just to use liquid nails to fix the few that fell off.
After that we grouted and then sealed the grout the next night and it looks great.NOthing fell off after the grouting. Based on our experience I would not use this for mesh backed tiles, but it was fine on our 4 1/4" tiles. We hope to do the same project in another bathroom but using just regular tiles. Below are some pictures..hope this helps anyone thinking about the product.
Putting up the mat:
you can kind of see the glue "nubs"
starting the tile: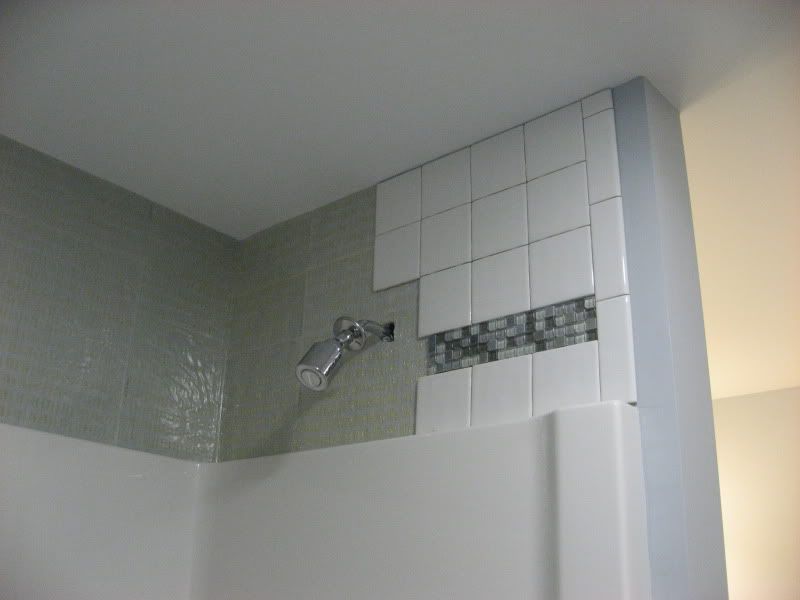 finished tiling: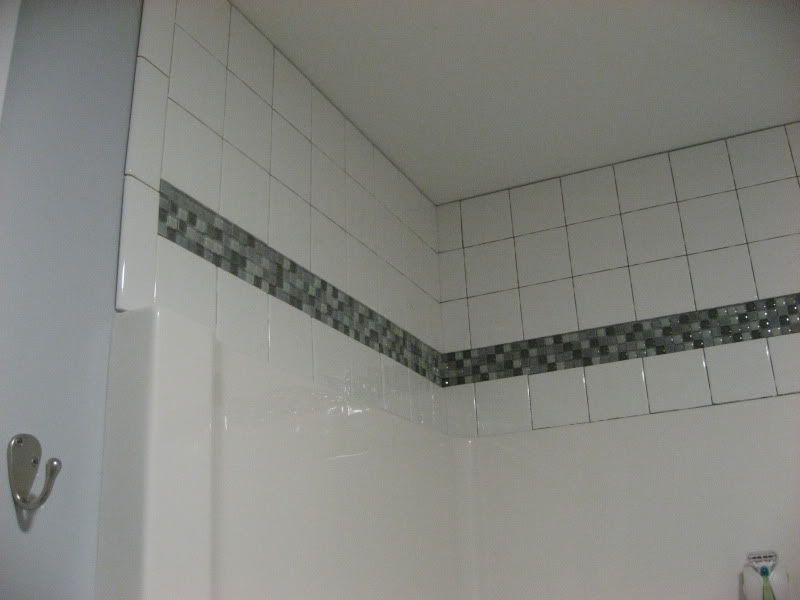 grouted, sealed and caulked: