'Snowmen Galore in my Porch Decor' (pic heavy)
jeannespines
November 28, 2011
Oh the weather outside is (not) frightful ...just cold...no snow ...but my snowmen are ready for Winter! Finished up the porch decor today (except for ironing t'cloth for table & adding centerpc)...so I am happy to share some pics.
Cold out there & not much sunshine so ran the electric fireplace for a bit...hung up the Holiday thermometer between the double set of sliding glass doors to the patio area: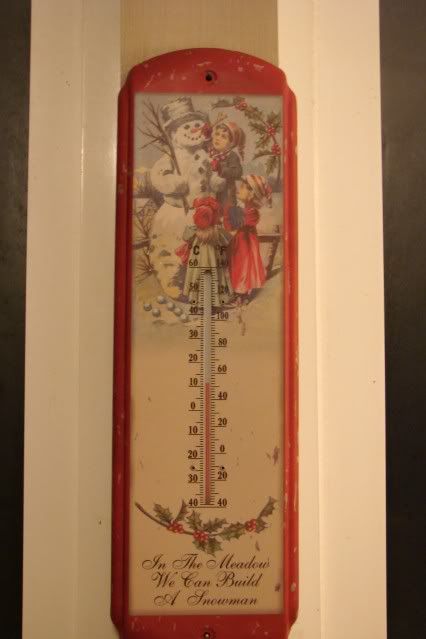 Toasty warm, uh?
Here's some of the snowmen on the wall shelf:
A full view of the wall shelf:
And this snowman 'chick' who sits on the ledge...I love those!
Beside the loveseat is this basket endtable ...I used the Gabriel Pottery big round plate for a tabletop:
These are my very active snowmen ...scooter, ski & sled. You may also have noticed the metal snowmen window sill sitters! I took apart some garland yrs ago & stick them in all the porch windows (trio's):
PBucket is acting up...so I think I'll quit here & post additions in a bit. TFLookin'! Jeanne S.