Another Bin Bites the Dust in the Dining Room
jeannespines
November 30, 2011
Ok, it sounds like many have a 'bin war' going on ... I made myself feel better by clearing off the foot high stacked dining table today (of course, I transfered it all to the spare double bed! LOL!
But, here's a few pics of my Dining Area that I accomplished today. Remember that acrylic angel I bought at GS for $1.50 this summer ...well, she worked pretty good in the center of my candleholder w/mercury glass:
I use faux votive candles & the centerpc really shimmers this evening...this pic was taken in daylight today. She has some gold accents painted inside her gown:
Vine tree (that was Fall decor on the porch) is now inside sitting by the buffet...it will stay there until Spring ...gets some changes over the mos. this Winter...here it is w/red glass berries & garland & white birds..part of the buffet is done, too: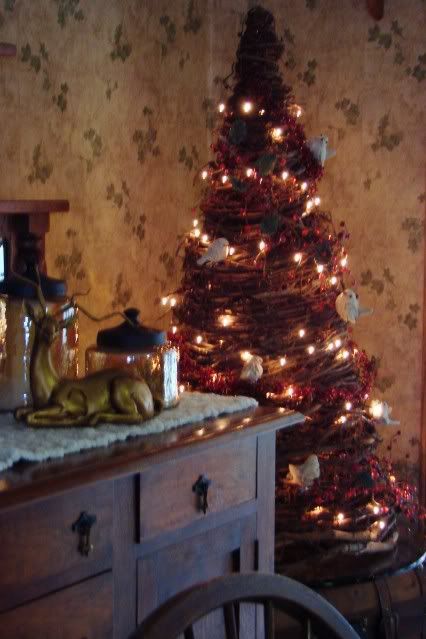 Across the dining room at the sliding glass doors is my kitchen cupboard wall where I hung this big Santa pic this yr...GS find for $4 ...I love it's simplicity ... & beside it is my little shelf of snowman figurines...a Secret Santa gift some yrs ago from a co-worker: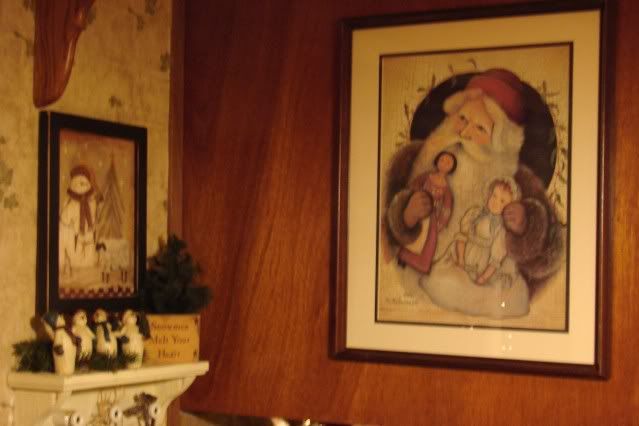 Kind of blurry in this pic tonight...so here's a little better close-up...too lazy to get out my tripod!
I'm taking a break from decorating for a few days so I will enjoy looking at yours! TFLookin'! Jeanne S.