Juice Glasses, Decanter & Brassy Birds!
jeannespines
November 17, 2011
While grocery shopping for Tksgvg today, my DH & I stopped at a "Stuff" consignment shop for a short visit. I found these juice glasses & decanter ...I've been looking for juice glasses for awhile & these are perfect to go w/the Gabriel Pottery I got last yr at a GS. Anyone ever seen this pattern? They may be Libby or something or Walmart or whatever? The green is the same green as the cup Gabriel cup I'm showing in this pic:
Anyway, want to guess what I pd???? You won't believe ... price tag marked $3.99 for the 5-pc set but they were over 3 mos old in the store so were 80% off! Yup, I pd 80 cts!
My DH spotted this brassy bird (as he knows I like to decorate w/birds) ... so we brought it home, too $3.99. And we did get the grocery shopping done, too! LOL!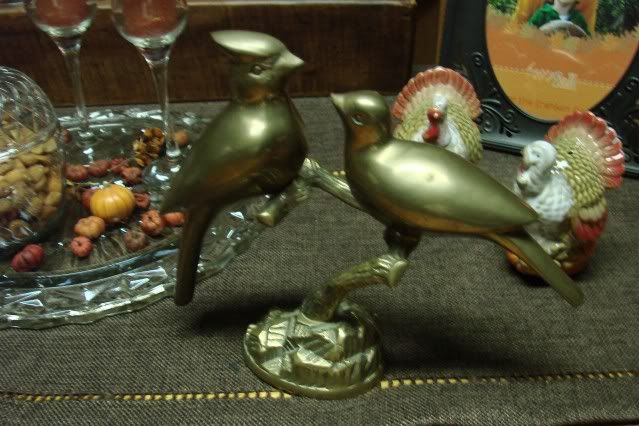 You'll see these glasses w/Gabriel Pottery, come Spring! Jeanne S.