My 'Woodsy' Holiday Decor has begun!
jeannespines
November 27, 2011
After celebrating Tksgvg w/kids/gr'kids Thurs/Fri. it was time to start luggin' the 'totes' from the garage! Mostly DH carries them (the heavy ones, anyway). So, for a couple days I've been emptying & filling back up totes! LOL! Love it!
Progress is being made ...you know me as Jeannespines...so, you can usually find pine & woodsy decor in my home. So here's the porch woodland decor on this old dresser that we bought at DH's parents' estate sale from their cabin in MN.:
Woodland Santa was a HL bargain for last yr ... snowshoe ornie leanin' against the lamp trunk ... lighted log cabin I found in MN some yrs ago on vac ...some pinecone candles & a furry clad snowman sitting in the tree (a gift):
Here's close-up of that cabin...it's so cute!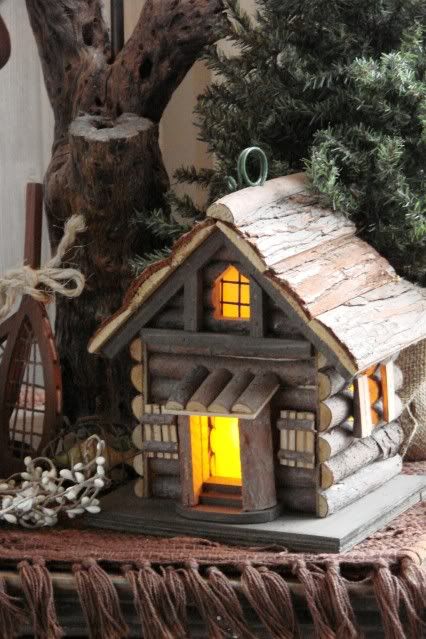 And full view of the Woodland dresser vignette. I added to the grapevine wreath...pine trees w/bells that was a Secret Santa gift a few yrs back on the Garden Junk forum:
On Sat. I had moved this dresser & tried my 'window box' Old World Santa that is new this yr (greenery not added in pic yet) ...DH & I made it ...but it wasn't working to my liking so moved it back to the corner for the Woodland vignette ...so I'm still looking for a good spot for it! I worked so hard I fogged up the windows! LOL! (not!)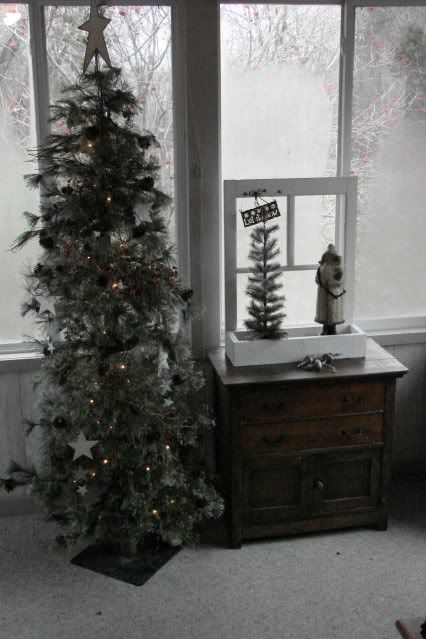 While on the porch I got the 'Woodsy' tree put up...this tree is over 10 yrs old now & still looks GREAT! Added the galvanized tub (ice skating rink)...here's close-up view:
...a full view:
and the skating rink lit up:
I fixed up this fav basket of mine (that you've seen before for t'scape centerpc) & added it to my DH's new fireplace cabinet he built ... looks good, I think!
The deer I shared here recently as a FM find: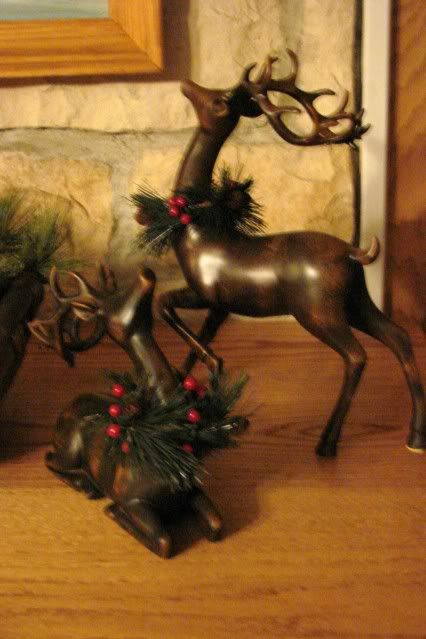 And a full view:
A good start for the Holidays! And at least the totes are all up here now ...tired, but smilin'! TFLookin'! Jeanne S.