Yay! We're finished with the Imperfect Interim Teeney Powder Room
Yay! It's done. Well sort of. You know, there's the door project, oh and we plan to remove the Mr G's 1950s Bathroom From Hell that's acting as the anteroom.... did you really think we were DONE? Not at the Shrine to Our Lady of Perpetual Renovation! There's always more to be done!
But still, we're sorta done! So let's celebrate with before & afters!
The details:
Powder Room - inserted into a small closet.
Sink - moved from 1920s 2nd floor bath, some parts restored
Faucets - Elizabeth Classics from efaucets
Mirror - Lowes
Frames - hobby lobby & target
Makeup mirror - Seattle Luxe
bidet seat Brondell Swash 1000 Bidet - Costco
Paint - Benjamin Moore Hale Navy & Ellen Kennon Snow
Overhead Light - shade rescued from basement ledge - new basic fixture from Home Depot + few antique bits
Sconces - Home Depot
Flooring - Antique Select Heart Pine - Goodwin Heart Pine
Toilet - moved from previous location
Wainscott - Hubbie made it - Home Depot wood
The tale of this adventure is on my other thread interwined with the other bathroom under construction which is starting from dirt! More photos - before & progress pictures at the link.
I'm happy with it!
Yay!
Hunzi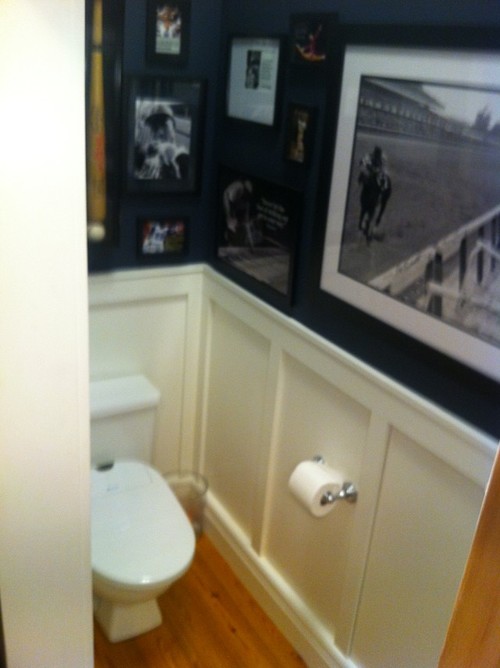 Here is a link that might be useful: The Imperfect Interim Pantry Powder Room!