Holiday Canning Jar Project
jeannespines
November 5, 2011
I've been gathering up my old blue canning jars to use for some Holiday decor ...& I looked & looked for my canner 'rack' & think I may have it buried in my garden shed (somewhere!) Ugh! So the other day a couple friends & I stopped at a tag estate sale & my friend found one for me $2 ...SOLD!
Today I filled a jar w/Live Forever Sedum as the freezin' night temps has taken it's toll on most everything outside. I got the flower frog for the canning jar a couple mos ago at a specialty shop for $2.50:
Jars, canning rack & sedum: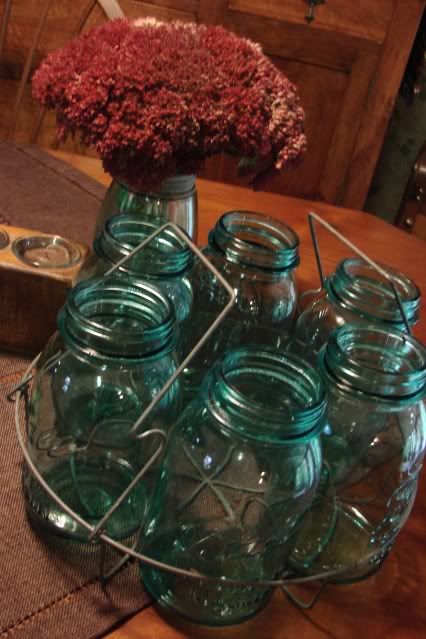 I'm on the Flea Market Gardening Facebook site & a couple gals have posted some cool ideas lately using old canning jars. This is Annie's & I plan on doing something like this & am gathering votive holders to fit in the jars...yesterday I found 2 for 25 cts ea at consignment shop:
And this gal, MaryDee, couldn't find her canner rack either so she improvised w/this red container...pretty cool:
If you have any jars or racks lying around, you may want to create a version of your own! I am! And if you like Flea Market stuff (which I know many of you do!!!), & are a Facebook user, then you may want to take a peek at the link below.
TFLookin'! Jeanne S.
Here is a link that might be useful: Flea Market Gardening Facebook