Dollbaby Ready for Thanksgiving
jeannespines
November 9, 2011
Because I woke up to this outdoors this morning, I decided to dress Dollbaby in her red corduroy jumper for Thanksgiving....Brrrrrrrr!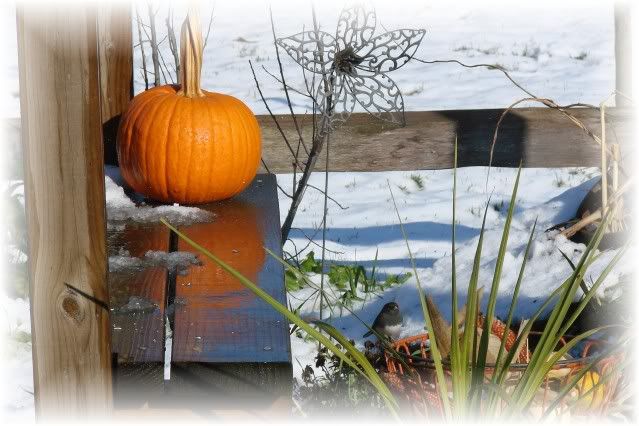 This is a view of bird arbor garden out the front windows...see the Junco perched on the orange egg basket ...& notice the corn is 'cobs' now...so the little squirrels should be fat & happy! & am loving the pumpkin reflection on the arbor seat!
Back on topic here...anyway, Dollbaby threw a fit when I dressed her in the corduroy & wanted to wear this 'cooler' outfit instead!
I guess it's kind of Fall colors ... a little orange in the yellow ...it's a TS find I got for Dollbaby this summer! The little crocheted booties I found at TS on vac last yr. She loved the monkeys on the bodice of her dress ...so I gave her my 3 brass monkeys on a quilt thread spool to enjoy: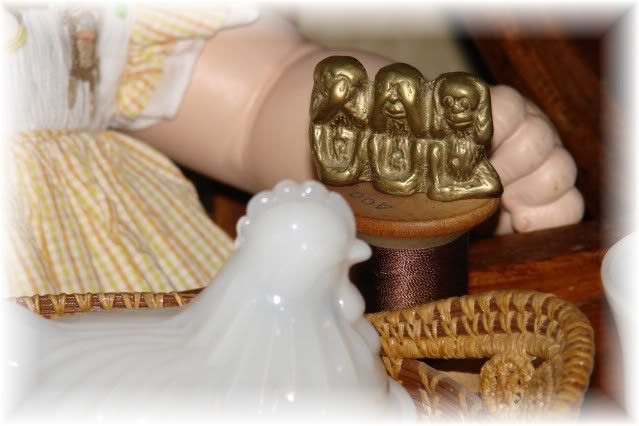 "Speak no evil, See no evil,Hear no evil."
Used a little basket for her tray'scape with 'chicken' milkglass covered bowl & her little white teacup:
Well, hope you enjoyed her Thanksgiving tray'scape ... she was very mischievous today as I tried to do some Thanksgiving decor...more to share later. TFlookin'! Jeanne S.