Indian Corn Wreath
jeannespines
November 18, 2010
I made an Indian Corn wreath today ... remember I got a steal on Indian Corn at a craft show a few wks ago ... 25 cts for 3 ears ...so I bought enough for this wreath someone found on a blog & posted on GJunk forum...my wreath really did look beautiful like this: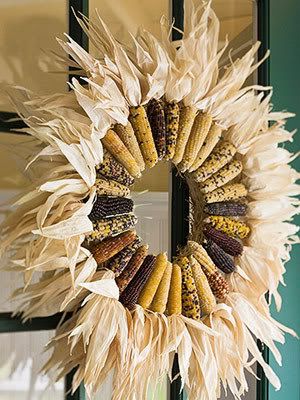 Took me about 2-l/2 hrs. ...gave up on the straw wreath & used grapevine instead...HOT GLUED! HOT GLUED! HOT GLUED! working about 2 hrs. Took it out on the porch & hung it & the corn started falling off...back in the house... HOT GLUED! HOT GLUED! HOT GLUED! ... tried to hang it in a diff spot...too big (28" across)...more ears fell off! Ugh!
So, here is my Indian Corn for the now:
LOL! 30 ears of Indian Corn in my basket under Treadle Sewing machine! I'm laughing now...but wasn't this morning! Not meant to be, I guess...& DH suggested I try fishing line & tie them on...but I was done! Jeanne S.