Thanksgiving Table ...Buffet Style (pic heavy)
jeannespines
November 24, 2010
Yucky cold, rainy, icy weather here today...a good day to be indoors preparing for Tksgvg. Everyone should make it home tomorrow except one ...so we are very blessed to get tog. Since our 14 cannot dine at one table, we overflow onto the porch...so, our family dinners are always "buffet style."
Here's some pics of the buffet set-up:
Countertop napkin basket with cloth & brown paper ... a bit of candlelight & turkey S&P shakers:
Not only moved the S&P shakers from table ... but also the sugar mold candleholder...here it is with glass acorn: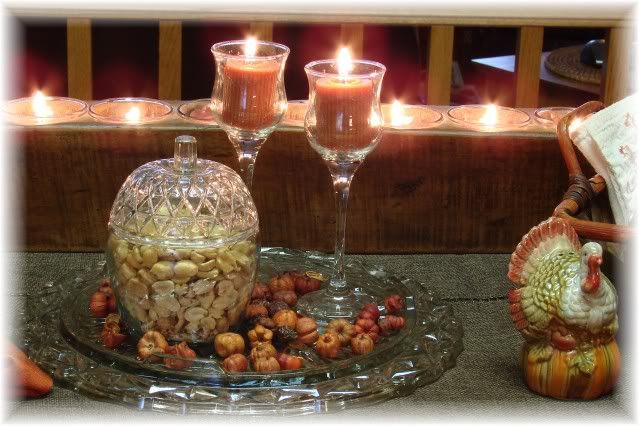 And the newest turkey acquisition I've already shared with you, Enablers R Us!
Basket for rolls with a pretty dishtowel that I use for a liner:
At the other end, my Autumn Leaf Jewel Tea glasses on a round braided placemat...bought these placemats at 50% Kohls recently ...thought they would be a good accent to my Hall China.
Here's the full counter view:
Here's Jewel Tea china (some of it from my MIL estate sale) & silverware in the basket (my Mom's)...on the corner counter where the line begins:
and more...some serving pcs: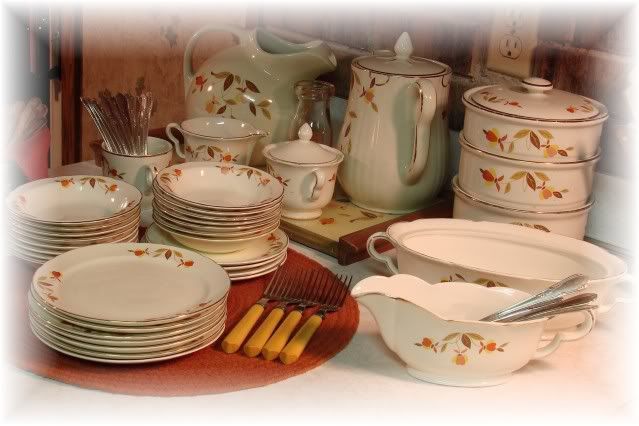 And, here's my table...I ironed one of my pride & joy finds, the Autumn Leaf muslin t'cloth ... we use it for Tksgvg...it's beautiful & the colors are more muted than the dinnerware. The muslin t'cloth (& napkins...I only have 1) were introduced as a set in 1937 (before I was born!) & discont. in 1942 (also before I was born!) LOL! It was valued at $150 - $175 in my 1992 Hall China book...so I don't know it's value now ...but I found it at a TS for $4.50 back in 1997 (yup! Four $$ & 50 cts!)...I just looked that up ...I think it's kind of fun to share the history of something you love!
And I brought my DH's pheasants up from the mantle downstairs...I made these in ceramics for him for Christmas back in 1974 or so...kept the praying hands box on other side...as a reminder of our "blessings!"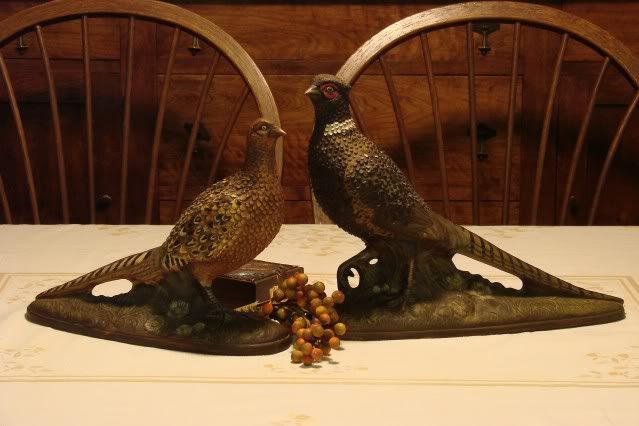 This has been so much fun seeing & sharing on this Holiday forum...enjoyed doing the decor today inspired by so many of you. So, HAPPY THANKSGIVING to you & yours. Jeanne S.