Perfect Pair of Napkin Rings & 'Just Ducky!'
jeannespines
November 12, 2010
Oh boy, DH made a trip today to Menards so I tagged along to get dropped off at TJMaxx .... then we stopped to buy lunch to take home & it would take 25 min. til done...so, guess what, GWill shop a couple doors down! Here's my finds in 25 min...
Brass Duck Bookends ...very heavy duty & a bargain for $5...good for my books & good for t'scaping!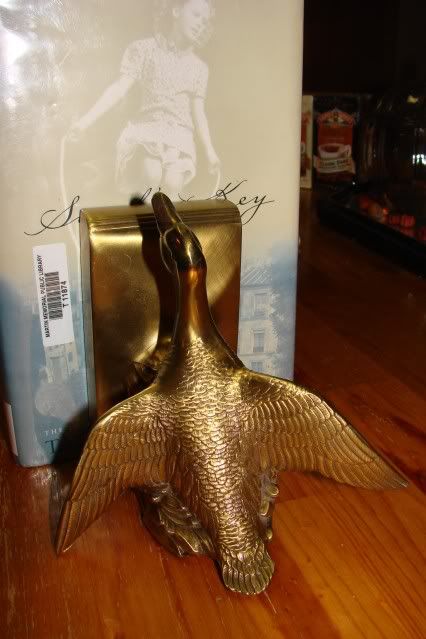 And, then I spotted these cute little "quack-ers!"
I thought they were quite unique cause the ducks are one piece S&P shakers...on the back side in faint writing are two words: Poland & Anna so I pd $1.75 for them. They'll probably end up on Dollybaby's tray one of these days!
And the last "perfect" find (for me) was a pair of napkin rings made with shells & coral ... the salmon color struck my fancy because of the recent collection I've started of Woodfield Stubenville "Toast & Tea" plate & cups...I stood one up by candle on Fall display on porch:
Can you believe each of those shells & pcs have small hole in them & are "strung" with wire on a metal ring...I thought they were perfect...got the pair for $1.
Ok, I'll share my other finds on a separate post. TFlookin'! Jeanne S.
Oh, I forgot ... a few wks ago I got this pine branch pitcher at the same GW for $3.50...I'll use it for winter & "pines" just call to me! (jeannespines) Markings on the bottom is just a label that says "distributed by Target"..microwave & dishwasher safe.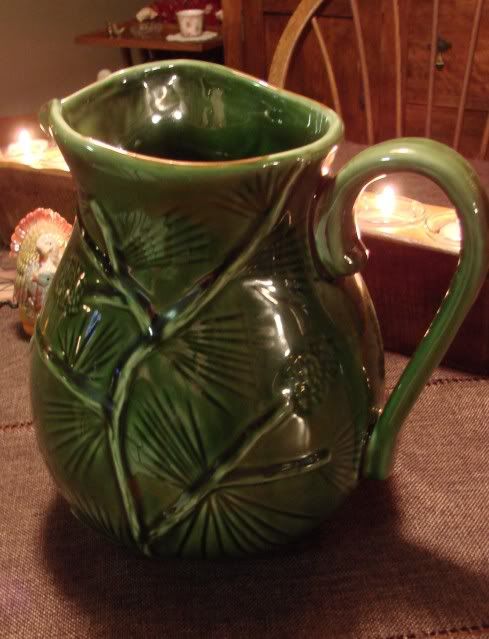 from a bonafided member of "Enablers R Us!" Jeanne S.