Marvel drawer fridge disappointment
My new kitchen appliances were just delivered today and I'm very disappointed. I specifically ordered the Marvel 60rde drawer fridge with the plan of storing 2 liter bottles in the bottom drawer.
The Marvel product page says "extra deep bottom drawers allow most 2-liter and opened wine bottles to be stored vertically."
And the Marvel brochure online says "Stainless steel drawer dividers neatly hold food and beverages
in place, including vertical 2-liter bottles, gallon containers
and wine bottles." And includes a photo with a normal looking 2-liter bottle.
OK they say "most 2-liter bottles", but I tried 4 different 2-liter bottles and =none= of them, not even the shortest, will stand up when the drawer is closed. They all hit the top of the drawer support when the drawer is closed.
I will call Marvel tomorrow and ask what they had in mind with this kind of wording in their promotion. Any words of advice? Anyone have a similar problem?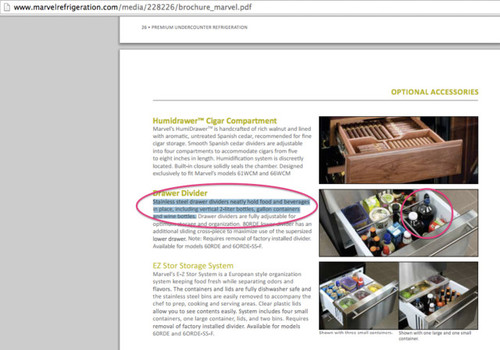 Here is a link that might be useful: The link for the Marvel drawer product page