Old Oil Lamp Find for the Holidays!
jeannespines
November 11, 2011
I was so pleased to find an old oil lamp yesterday at a consignment shop sold 'as is' ...I got it for my DH's electric fireplace cabinet that he built last yr:
I worked on polishing up the oil lamp today & found it is a B&H brand & also from polishing revealed a couple parts with patented dates of 1898 & 1895 ...quite unique! It has some dings & nicks but I love it & will add some greenery to it soon for the Holidays! Here's a close-up:
And full view...the placemats are crocheted ones I got at a GS for $1 ea this summer: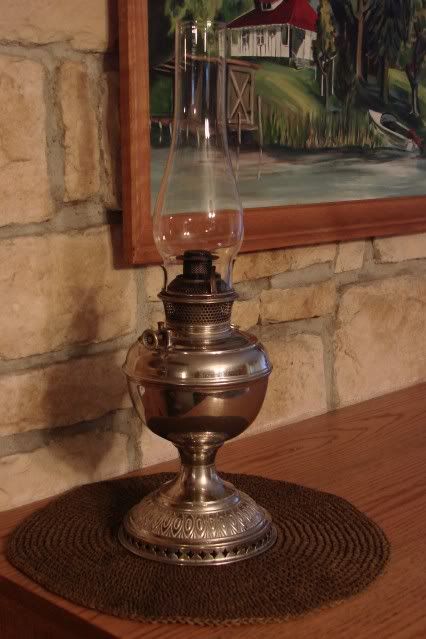 I was going to save this for a Christmas gift but I couldn't! LOL! He thought it was a pretty cool lamp, too!
Here's our old mantle beside the fireplace with oil lamps...I've showed this pic earlier this yr. TFLookin'! Jeanne S.