Would this 21" vanity light work with these smaller vanities?
jaynes123_gw
July 22, 2014
Bought a 2bulb vanity light which i really like for 2 bath, 1 powder rooms but i like 3bulb light even more and dont want to move on from 3bulb until Im certain it wont work. .
Rooms pictures are drawn to scale . I purposely picked smaller 24" and 30" vanities for baths for more spacious but for powder room fell in love with a 42" one. Intend to keep rooms simple with a large framed print..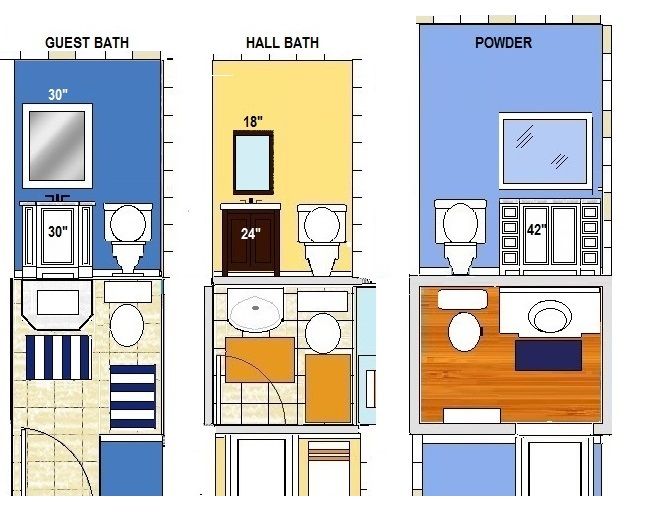 Do NOT want a mirror across vanity wall widthes even if that would make 3bulb be more to scale and work, wouldnt be worth it..
Would 3 blub light work in these rooms?
For smallest brown 24"W vanity, would switching 18" vanity mirror to a 24"W one make enough difference to matter?
Thanks for your thoughts!

Both have same size wall plate I estimate as 7" left to right with glass shades 14" across on 2bubl, 21"width on 3bul
We bought 2 bulb lights for all three rooms but wonder if the 3 bulb lights, which I like even more, could still work too seeming noticeably too large. What do you think?