A Re-visit to my Thanksgiving China
jeannespines
November 17, 2011
Thanksgiving is next week & I will be using this china buffet style for our family gathering. Candy & purplemoon motivated me to 'clean' my china cabinet ...PM & I share the same china cabinet... PM was ambitious enough to change her's out w/Fall decor...oh it certainly is beautiful (& she did 2 of 'em)...candy did her's also...so the least I could do was clean my for Thanksgiving.
Here's my Jewel Tea "Autumn Leaf" Hall china:
Autumn Leaf was introduced in 1933 & discont. in 1976...my collection started from getting some pieces from my DH's parent's estate sale in early 90's...& I've been hooked ever since! The Willow Tree Angels are gifts & they share the space:
I decided to take out all the crocheted doilies that I used before & just leave the china sit on the glass shelf dividers...I like it...here's plates & bowls: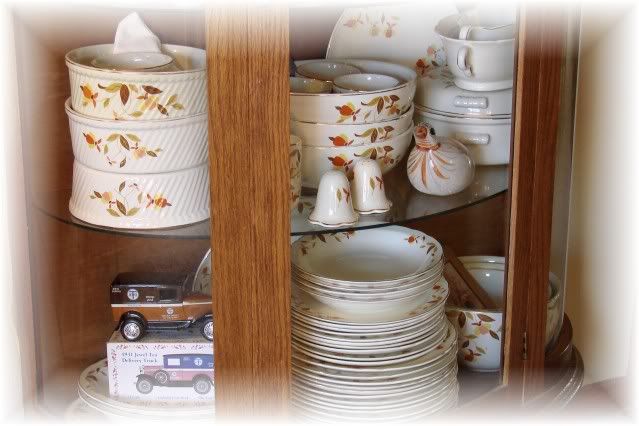 A teapot...
...and even a fluted glass candle lantern. Hall China was commissioned in 1990 to produce slected pcs of the china in the Autumn Leaf pattern...they are limited editions & this candle lantern is one of those pcs...as far as I know, they continue to create a new pc each yr.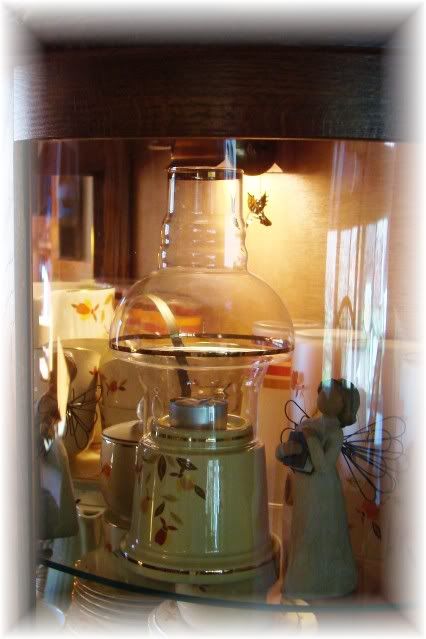 I shared some pics in a diff post about shopping & I found an electric candle light w/wax poured shape around it, faux berries & mounted on a tin plate...well, here's a close-up of it in my window/glass decor on top of the china closet & it smells so good...Hazelnut coffee-like fragrance."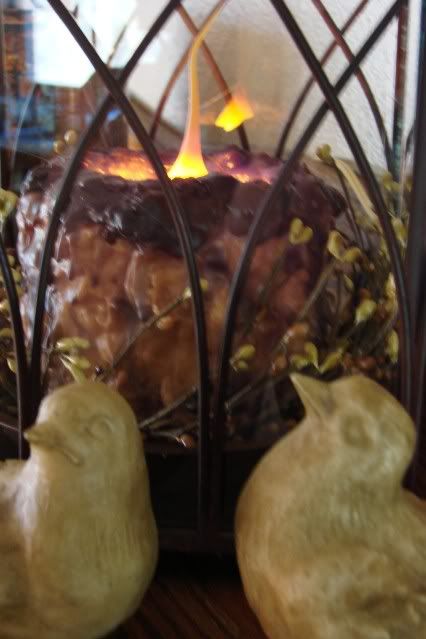 Here's a full view of the china cabinet & Dollbaby nearby in the dining room: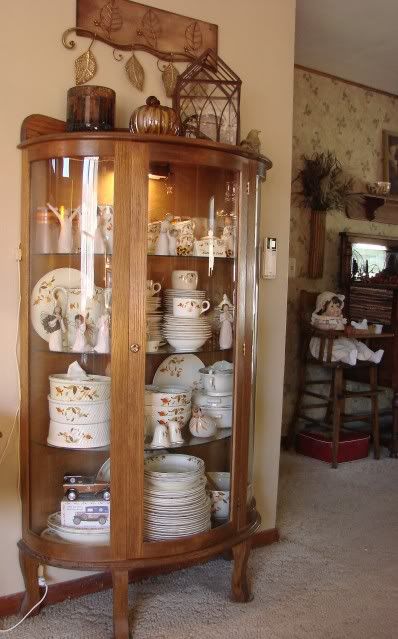 Hope you enjoyed a little history on my china. TFLookin'! Happy Thanksgiving Day coming up soon! Jeanne S.