Baker's Rack Ready for Fall/Thanksgiving
jeannespines
November 7, 2010
Our cold snap turned into a beautiful day in the low 60's ...so I decided to decorate my baker's rack on the patio for Thanksgiving/Fall.
Here's a full view...I went & cut greens from the pines on our place: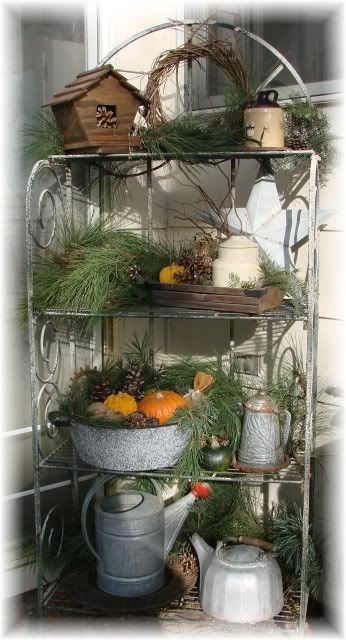 Here's the top shelf...a birdhse I moved out there from the porch... DH made it for me with a big opening to hold little burlap sacks of seed...the owl crock is an old TS find...I corked it to keep winter weather out!
The second shelf has some pinecones, a bit of Curly Willow sticks (that I gathered) in recycled wood basket gift & an old crock canning jar I bought on vacation yrs ago:
Old enamelware...this tub I had a mini garden planted last yr...this yr it gets pumpkins, pinecones & branches...the old coffeepot sits out by my garden shed:
Here's a closer view of the arrangement in the enamel pan...the little burlap sacks I sewed some time ago & filled with prairie seeds (usually on the porch)...so the squirrels and mice will love them outside this yr & the rusty iron is a planter plate from old farm equipment...also put one under the coffeepot: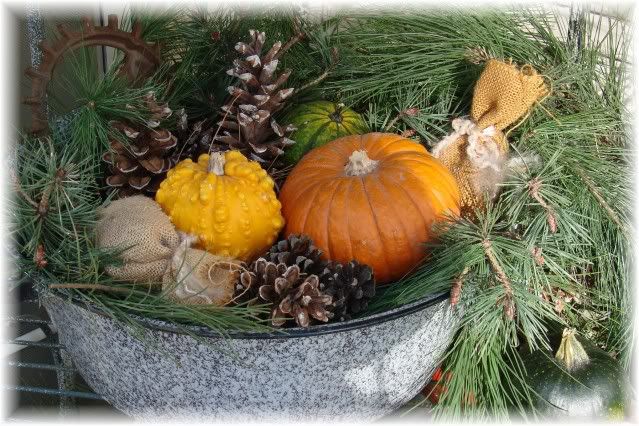 Another full view angle from porch side:
A beautiful day to spend some time outdoors! TFlookin'! Jeanne S.