Fall T'scape 'Tea n Toast' or 'Cake n Coffee' (pic heavy)
jeannespines
November 12, 2011
Last night I tried a t'scape w/that new leaf runner & the squirrel centerpc on dining table I've posted recently.
Using my collection of Stuebenville Woodfield 'Tea n Toast' dishes I decided it would be a 'Cake n Coffe' table for two ...an additional two more settings could be added easily.
Here's the squirrel/candle ring/square plate & acorn ornies centerpc on the TJMaxx leaf runner ...I added depression glass for accessories & also a couple 'peachy' votive candleholders (25 cts ea @ TS last wk):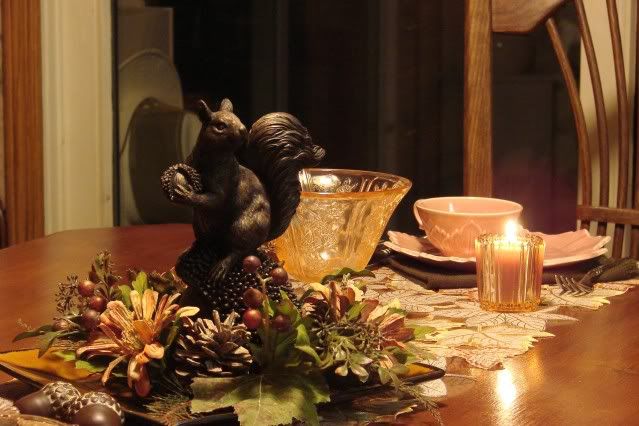 Here's another view...it's a small compote dish w/glass spoon ...the dish is from one of my Gr'ma's estate (don't know if it's original or newer but I love the look of it):
At the other end of the table I added Dollbaby's depression juice glass & a small bowl on a square plate...all 3 pcs I've found over the yrs in the pinky color. I've also used my everyday flatware (from Christmas last yr), chocolate brown napkins tucked under the plate: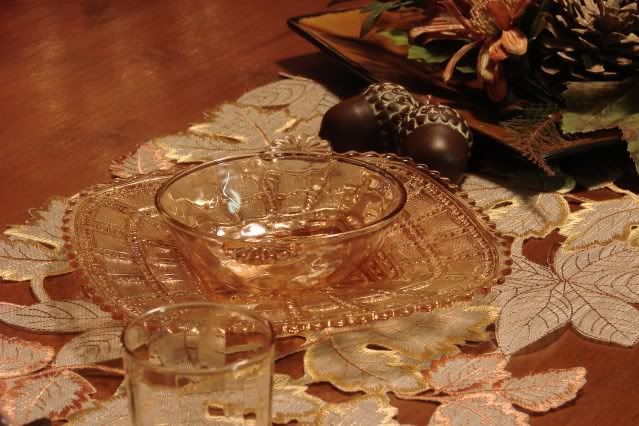 And here's a full view the length of the table: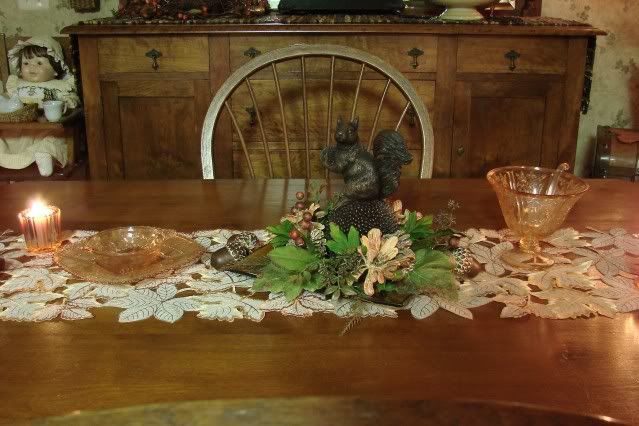 Hope you've enjoyed some "cake 'n coffee" & some fresh fruit at my Fall t'scape! TFLookin'! Jeanne S.
Vintage Steubenville Woodfield Salmon Pink Tea & Toast Plate & Cup Set by Steubebville Pottery Company, Steubenville, Ohio (1881 - 1959).