More Winter Holiday Greenery Outdoors Here!
jeannespines
November 17, 2012
I shared pics of my Baker's Rack last week ...well, we've had some continually nice, nice weather ...50 deg! So I went ahead & did up some more for Winter decor. No more pretty blooms for awhile so I like to add 'pine greenery' outdoors so I can enjoy it during the cold days from inside!
Out my porch windows: Here's an old washtub on legs filled w/plastic pots of dirt (from annuals this summer) ...I cut pine greenery & poke them in the dirt here & there ...added some Curly Willow branches that I had painted red 2 seasons ago & a solar light glass globe...a place for the birds to perch as they come to the waterer: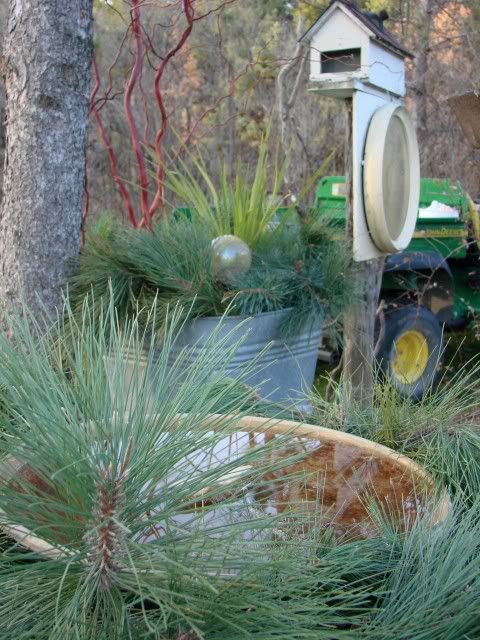 ..and here's some birds enjoying the bird waterer just a bit ago!
Gathered some more pinecones yesterday & cut some more branches for my 'potting table' outdoors ...here's a close-up of greenery in the cast iron window box w/a rusty star: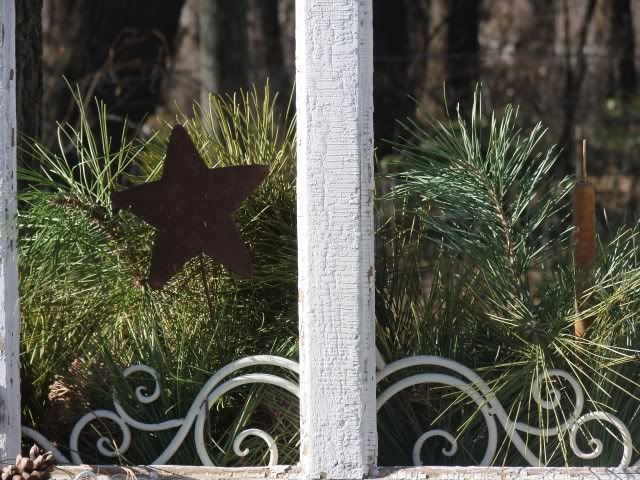 ...and a clearance hanging basket filled w/pinecones, a chunk of log & recycled coconut liner ...an orange for color & for the birds!
Here's another view:
Yup, those are chimes hanging on the right ... let the bells ring in the Winter season ...but right now I'm happy to have FALL!! Happy Thanksgiving! Jeanne S.