Thanksgiving Decos #2 (pic heavy)
Here are a few more pics of Thanksgiving decos!
FR Mantel....... Halloween is gone (goes by so too quickly)...
Kept it simple...
I got the lanterns - set of 3 at CTS for $9.99.(used just 2) I just added some leaves, gourds and pinecones.
The pheasant plates are - Royal Worcester Spode - Palissy (Game Series)from Ebay Int'l.
Here's another Ebay purchase - about 5 yrs ago. 'Mr Pheasant'! My youngest DGS did not like him- He was afraid 'the bird is going to get me'.....now at age 7, he doesn't even give him a second look...they grow up so fast...sniff...sniff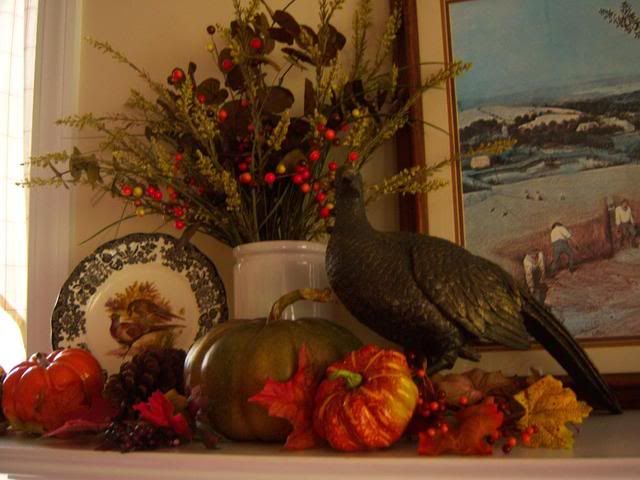 Finally, DR black Hutch..added some of my Brn Transferware plates to my white ironstone. I think each time I change the plates in front, it gives it a different look!
Small turkeys - CTS..large one - TS. The platter behind is Johnson Bros - The Old Mill.. Elephant's Trunk - unbelievable price of $5 !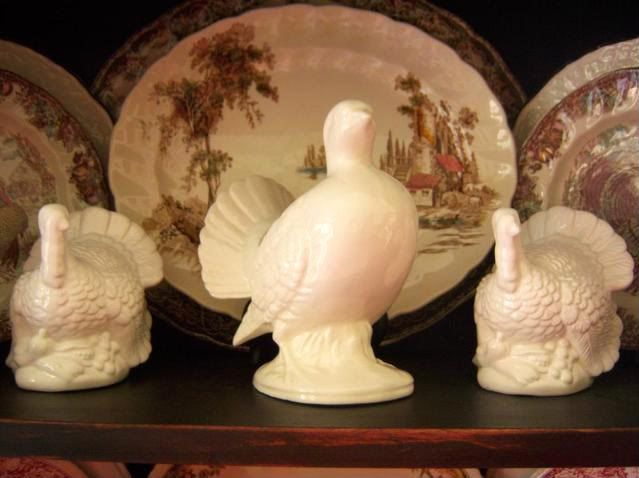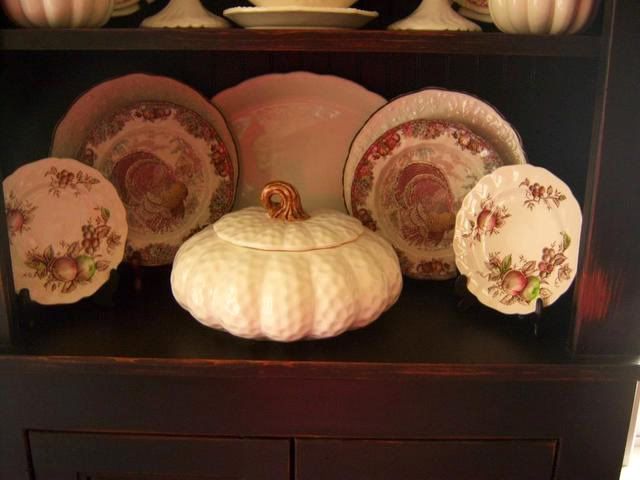 I bought the white pumpkin last yr... TS - can't remember what I paid (brain fog)..pared it with Johnson Bros - Autumn Monarch - from HGs $2.99 - and the smaller plates are Johnson Bros - Harvest Time - Elephant's Trunk $1 ea!
The platter in the background - Johnson Bros - Devonshire..Elephant's Trunk - snapped up $5 !! The Salad/dessert plates - Homer Laughlin - Historical America $1 ea! ...At an auction in NY over 30 yrs ago, I got a large platter from the series -(The First Thanksging) - for $4 !! Those days and prices are GONE !! - The white pumpkins CTS and the white tureen - Stormville Flea Mkt - $5!
I have a few tables I'd like to do before I get on to Christmas...see you again!!
Thanks for looking.
jane