Dollbaby & Thanksgiving Decor Done (pic heavy)
jeannespines
November 7, 2010
Ok, I finished up & now just looking forward to the Tksgvg holiday! Well, maybe one more Fall wreath project (maybe get it done). LOL!
On my earlier thread I posted "evening" close-up views of buffet...so here's daytime & full view (a bit washed out by all the light):
Here's a close-up daytime views of turkey in cage & that pretty pumpkin swag: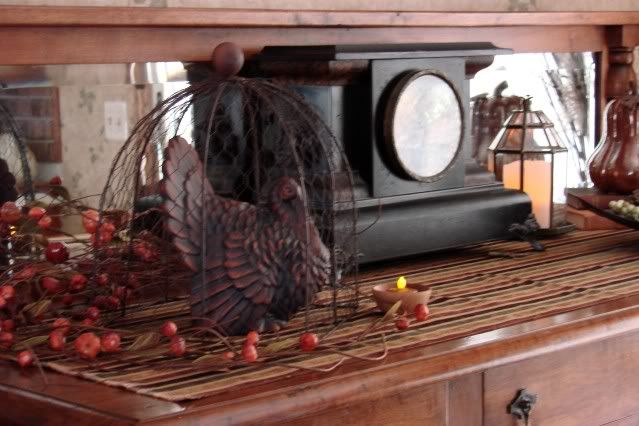 Close-up of old print of farmers shucking/braiding corn:
And this print I got at a consignment shop this yr...I waited & it got marked down 50% ...so $10 framed & matted...it's hanging in DR by sliding doors to porch:
And that ceramic pumpkin now on the buffet was on top of my china closet...a few wks ago I got this BARGAIN glass pumpkin at HL for $5! It looked so very elegant to me ...so I raised it up on books...but didn't like the look...so covered books with a neck scarf (oldie...I don't wear them much)...looks like this...this is about as "elegant" as my style gets! LOL!
It goes well with the look on the LR front door divider cabinet top:
Last, but not least, DOLLBABY, of course!
I found her a nice, warm, cozy, wine-colored cordoroy jumper at a fav TS ...no hat or booties...so I crocheted her this hat last night to keep her warm on these crisp Fall days here for Tksgvg! (I'm sure my Mom is lookin' down & smilin'!) LOL! Crocheting a hat for her doll! Added a little metal leaf & butterfly to the top notch of it..and her warm booties came from my cedar chest...I wore them many, many yrs ago:
Her high chair table is set with a crystal leaf dish I showed you many mos ago on a TS find...& a lovely Johnson pilgrim cup I purchased at another TS for Dollybaby, especially! Since I didn't have a toy for her to hold, I put the brass Rooster & Hen on her tray for play!
Here's a closer look..that's a faux tea light shining in her cup:
And here's a close-up of the cup..I collaged the pics tog in one...so I tend to be not only "wordy" but "pic heavy," too!
Looking forward to seeing all of you "holiday-ers" t'scapes & decor for Thanksgiving! I added a little copper wood box of praying hands to my DR table ... to remember all to be thankful for! Jeanne S.