Dollbaby Duds ... joins Teegan, TJ & Rosemary!
jeannespines
November 4, 2012
Well, I tell ya, life has not been good in this household this past week...Dollbaby has been pretty 'miffed' that she didn't get her Halloween pics on the forum! She saw Teegan, TJ & even Rosemary posted pics this season! So better late than never: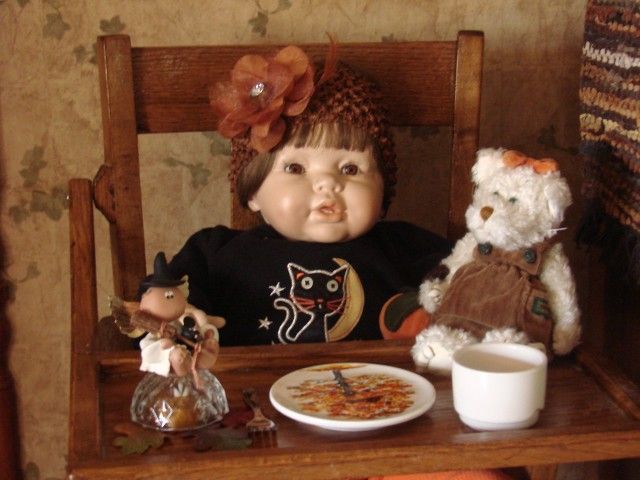 Her tray'scape includes the lil' witch figurine from last yr TS find...it's under half of a covered crystal dish w/faux tea candlelight...also 1 of 4 season plates I found just for her! ... her fave fuzzy pumpkin 'bear?' ...a gift from a friend many yrs ago & a TS find ...pottery cup:
And here's a full view ...
I appeased Dollbaby's attitude by sharing that we've been busy around here getting ready for Winter & also out in the shop a bit. DH & I crafted this 'Old Barnwood Tote' for a silent auction dontation:
Couple HLobby sale 'birch candles,' some pinecones from the woods & some of my photo cards ...a lil' raffia in the bottom & the bow I made from some garage sale ribbon:
A closer view:
TFLookin'! Now on to Thanksgvg! Jeanne S.