Super cheap porcelain console sink we used.
VictoriaElizabeth
July 16, 2013
Back when we did our bathroom, I ordered an unbelievably cheap porcelain console sink. $350 cheap. If you've shopped for consoles, you know that they run upwards of $1,000, especially for the longer ones.
When I posted our finished bath remodel , I got a lot of questions about the sink but I couldn't recommend it because they sent me multiple sets of legs. ALL of which were crooked... and I ended up keeping the least bent ones (how you bend porcelain, I have no idea. But I guess you get what you pay for.) And then the distributor had stopped carrying it, so it wasn't even an option to keep exchanging them.
It was on backorder when we were planning, and by the time it was delivered, everything was laid out to that sink size, so I was sort of stuck. I'm the only one who would notice the legs, and while it bothered me at the time, now I don't notice it at all.
Plus it's the only sink I found anywhere that had such a shallow depth... so I would have chosen it even if it was more expensive. Our bath is really narrow, and finding something with nice counter space that didn't stick out too far was really great. Frankly, I'd order it again, despite all the issues I had... the size/price was that appealing to me.
I was looking on Amazon for kitchen sinks, and now see that they are selling it (used to be one of their vendors) the reviews are mixed. But I thought I'd share because the price is so great, and because I got so many questions about it. Plus, since it's Amazon selling it, at least you know their customer service will be good if it doesn't meet your expectations.
Anyway, if you order it, let me know how the legs are.
Victoria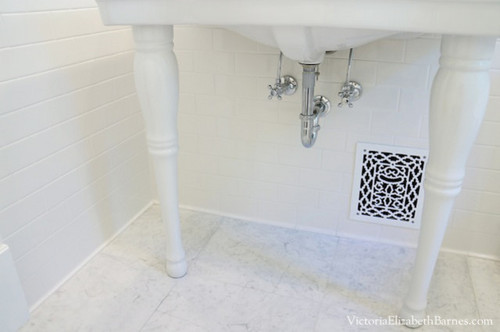 Here is a link that might be useful: Console sink on Amazon