Pumpkin Table...
Hi All..this was a table I put together last week, and hadn't been able to post until now.
It seems Photo Bucket made some changes - I
don't know if anyone else other than Luvs and I, had problems downloading pictures.
Luvs I hope you got it resolved.
Well, it took lots of patience and I was ready to give up..
but after half hr of downloading they finally went thru.
Table below;
I bought the large, white pumpkin tureen last week at an Estate Sale $5, *(tag still on the bottom from Marshalls $12.99)...which inspired the theme for this table.
The tablecloth is a remnant piece of fabric, which has some nice weight and texture to it - $6.
The Amber Stems were from a local Thrift Shp - at the end of the Summer.
I had my eye on them for weeks and thought I'd better get them before they became a 'wanted item' for Fall.
I used 'the famous' CTS pumpkin bowls from last yr.
The small white leaf dishes ...the Brn Leaf Plates - The Clear Stems...are ALL CTS.
I elevated the Glass Hurricanes on glass candleholders for extra height.
The cute Turkey Napkins - which are really hand towls - I bought last wk from CTS for $.49 ea. They have such cute details on them (see the little buttons)..I bought several styles for Christmas too all marked down at $.49 The flatware was purchased last yr from TJMax.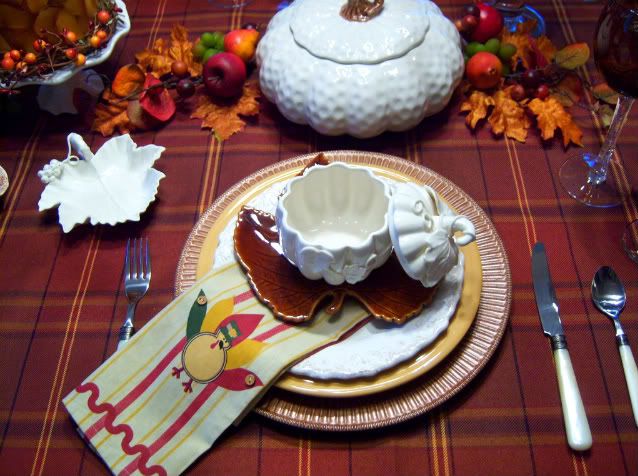 Close up of the Tureen..
The large candle was a gift that I actually had DH 'saw' in half...it was very tall, and I was able to make two from the one. It has the most wonderful scent of orange/cinammon spice...I made the little berry wreath for it and placed it on the white cake plate (Southern Living).
The little pheasant S&Ps - were white and I sprayed them - with a copper - metalic finish.
Hope you enjoyed looking...
jane