Miele Dishwasher Making Too Much Suds (2472 SCVi)
Peter Steinberg
June 14, 2013
Hello all, I'm hoping someone will have some insight into a dishwasher problem I'm having.
I have a 4 year old Miele Dishwasher that has operated normally until recently. Now, after most loads, the bottom of the dishwasher is completely filled with suds. (See the photo below. That was after a "normal" cycle with 1 teaspoon of Cascade followed by 2 "express" cycles with no soap in an effort to wash away all the suds.)
Sometimes the suds even come halfway up the bottom rack of dishes. (It's like that episode of the Brady Bunch where Bobby puts too much soap in the washing machine!) This occurs on the "normal" cycle.
After this occurs I run it 2 or 3 or even 4 times in the "express" cycle with no soap to try and wash all the suds down the drain and there will be visible suds after every run. I resort to manually scooping out the suds and dumping them down the sink.
My first thought is the obvious one -- the soap. I'm using the same soap I always have -- Cascade (not really sure which exact formulation). After this started happening I started taking careful note of the amount of soap we used.
Before we would just dump some soap in the little container -- it might end up being as much as 3 or 4 teaspoons. Now we carefully measure out 1 teaspoon and it has not solved the problem. We can go to 1/2 a teaspoon next I suppose but I suspect the problem is something else.
I don't know if the problem is every load as if you wait long enough the bubbles all pop and you can't tell (though you'd think we'd be able to taste the soap on the dishes from the bottom rach but we can't.)
Other random facts that may be involved but unlikely:
-- I live in NYC where we have very well balanced water. No water softening or the like needed.
-- I use rinse-aid. Jet Dry. (Hmmm. I wonder if that could be the problem? Could someone have put dish soap in the rinse aid container? That would be a good practical joke.)
-- I've never had etching on my glasses... not that my glasses are fancy enough for me to notice or care about etching.
-- Right around when we first noticed the problem we had the drain collar for the sink replaced (it had cracked). I watched them do the work. Nothing was done other than replace the piece of metal that goes at hte bottom of the sink and gets connected to the pipe directly below the sink. No drain lines were re-routed, no water hoses moved...
-- Also right around when this happened my wife ran a somewhat liquid-soapy sponge through the dishwasher. This was my first suspect but that was something like 15 cycles ago and it's still happening.
Oh, and one other thing -- I know people say that soaps have recently been reformulated and they suds a lot more, but this much suds from 1 teaspoon? Really? And I swear this started happening mid-box. And didn't they reformulate a year or two ago? This just started happening in May of 2013.
Anyone experience this? Any opinions?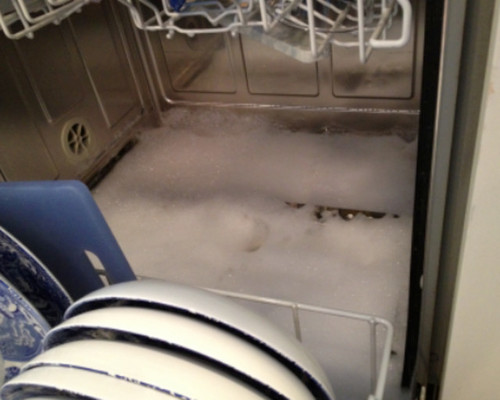 This post was edited by petestein1 on Fri, Jun 14, 13 at 14:47