Thanksgiving Decor Coming Along Today
jeannespines
November 6, 2010
Got the Halloween stuff put away & started adding to Fall decor for Thanksgiving. Took down the apple decor from buffet & shelf & got this much done today....tweak, tweak, tweaking! These pics are with low-lighting as this is how it looks tonight:
Added turkey S&P shakers to DR table centerpc:
Buffet right side ... moved metal leaf from LR end table, added couple books behind it & put ceramic pumpkin from china cabinet on top of bks... took green gourd out of lantern & added timer faux candle. Don't know if you can see the runner...I cut & sewed the edges today...it's a pc of uphostry fabric I bought at HL: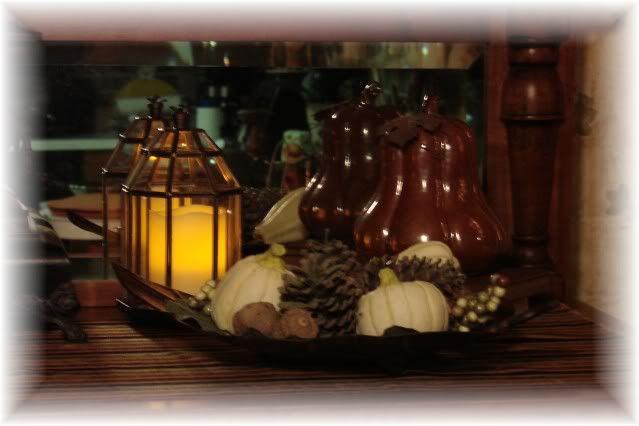 Here's the left end of buffet...my ceramic turkey I bought last yr & the wire cage...plus the new fall miniature pumpkin swag that I showed a pic of recently: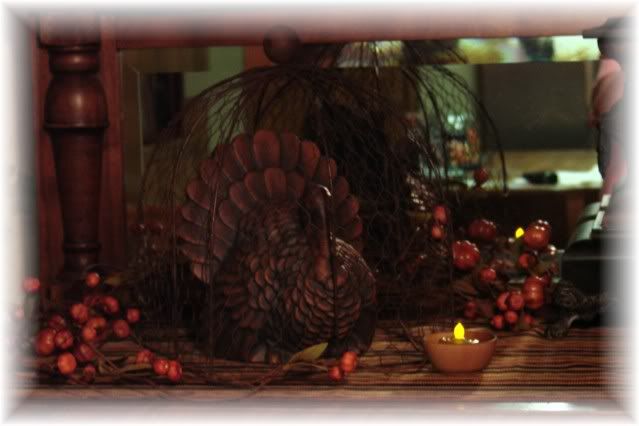 Here's the shelf above the buffet...took down apple print & added this fav print from my computer/craft room. It's a farmer & son (or gr'son) shucking/tying corn...this framed pic was my DH's gr'pa's...awarded to g'pa in 1959-60 for seed corn sales...I love it!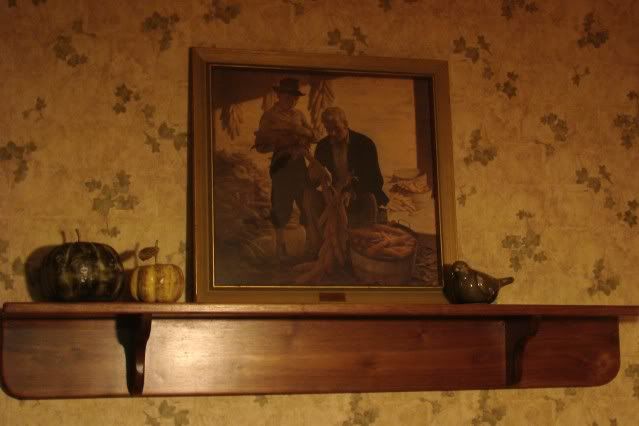 I'll do some more tweaking & adding tomorrow ...& send daylight pics of full view. And the bird & 2 pumpkins are from shopping trip I posted on Tues. TF lookin'! Jeanne S.