Some More Thanksgvg Decor in Kitchen & Dining Areas (pic heavy)
jeannespines
November 11, 2011
Here's some more decor I've been working on...switching things around from Halloween/Fall decor ...these pics are on the Oak shelf above my sliding glass doors in the dining room area:
Right side: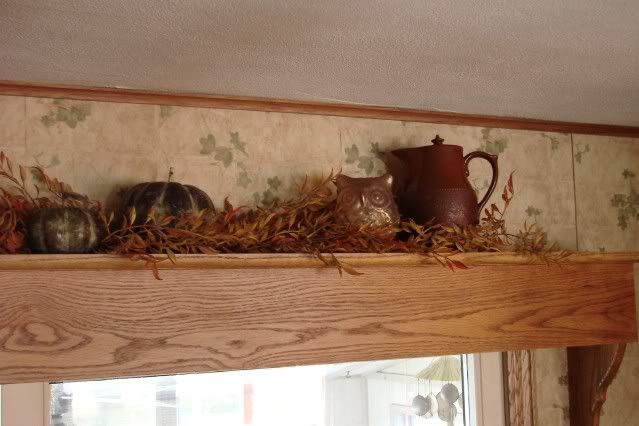 Left side:
The faux leaf garlands I purchased this Fall on a trip w/friends ...I like the yellow/gold color of them...here'sa closeup of my heirloom pitcher & the mercury glass owl I got at TJMax this Fall:
Center of shelf close-up of some heavy metal-like green pumpkins got on clearance after holidays last yr:
Those little S&P Quails I moved up here by a pottery bowl from TS for $3 awhile back...I love using pottery in the kitchen & for display: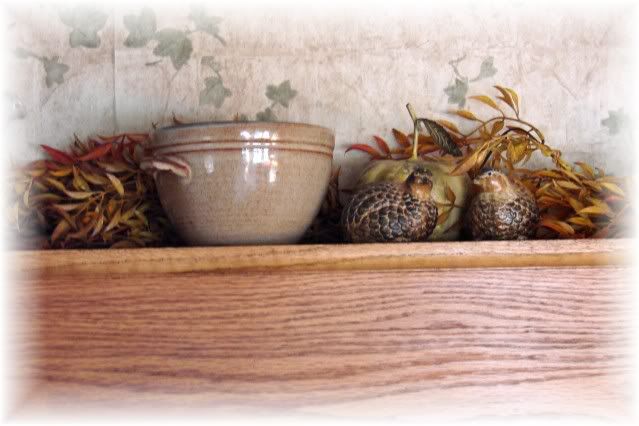 And this teapot was a find at a flea market many yrs ago on vac...handle needs some repair so I removed it: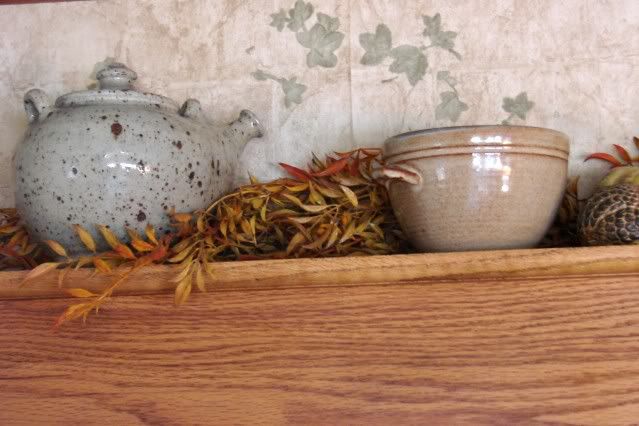 Moving across to the kitchen countertop is this covered bowl (candy dish for us) ...& leaf basket w/napkins I got at a GS:
And here's my covered 'turkey' from last yr ...he's so colorful...love him ... on brown linen square t'cloth I've shared before...great for Fall table!
Here's a full view of kitchen counter vignette:
Close-up of cake plate (very old from my Gr'ma) w/covered acorn glass bowl (enabled by you all a couple yrs ago) & glass stems for candlesticks (TS finds):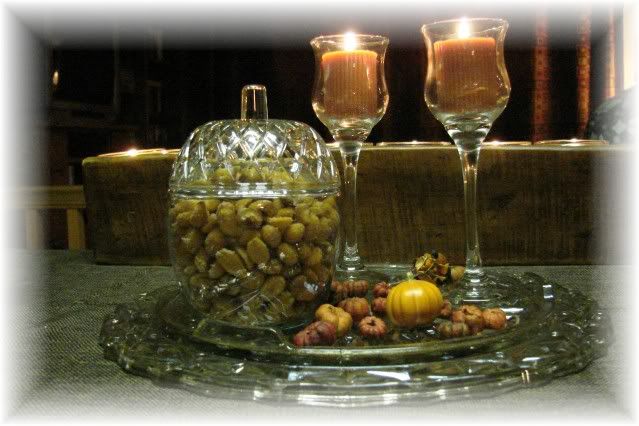 And one last pic of living room divider by front door...pumpkins are after holiday sale bargains & the crocheted round placemats I got a set of at GS for $1 ea this summer. Getting ready for Thanksgiving...2 weeks & counting! ;-) TFLookin'! Jeanne S.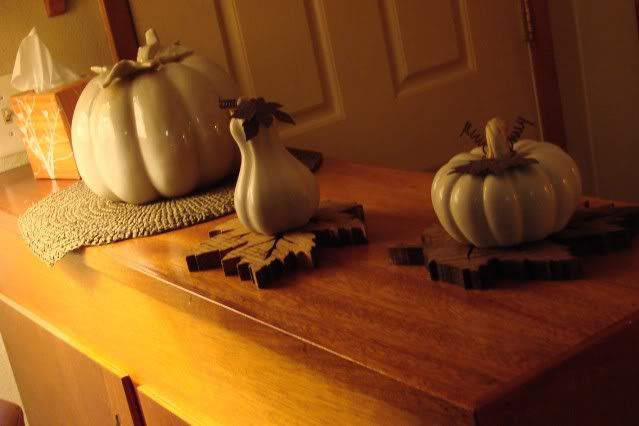 This divider will be removed if I get lucky & get new floors in the new yr! (hoping!)