Enablers' & More Fall Decor at my House!
jeannespines
October 12, 2011
Well, oakley posted a pretty metal tree asking for ideas ... & that 'enabled' me to buy this one at HLobby (40%off) for $7 .... I'm going to make it for a Christmas gift w/some little photos & maybe jewelry or something. Here's a pic of it & I hung 3 little frames that I will be using (plus more)...there's 12 branches & it's 12" high & about 10" spread at it's widest point...HLobby had them in this gold & also a few other finishes: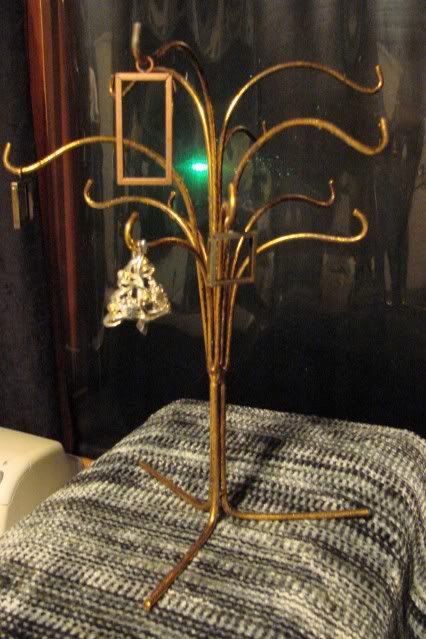 Here's the quail S&P shakers I got today while shopping w/retired friends in another town ...at a TS for $5 ..ceramic & red & gold sticker on bottom says "Viking Import" Japan...I shared them on purplemoon's "where's the help w/decorations" post. Here they are tonight on my dining room table where they will be staying for a bit with sugar mold candleholder & stained glass leaves: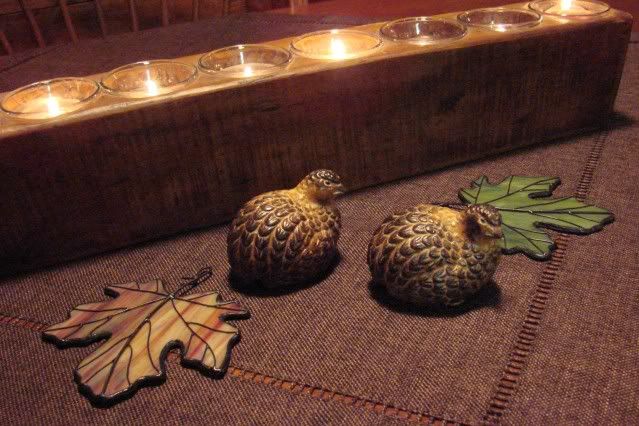 candy said maybe they're 'partridges?' Ummmmm....
Dimmed the lights:
I think they look real pretty there & like this centerpc for DR table ...w/the lighted twig urn in the corner tonight:
Fall is so beautiful ...& I was fortunate enough to catch a shot of the 'Harvest Moon' a couple nights ago...thru our trees out the front steps & w/the clouds rolling thru...we finally got some rain here (all day today):
Hope you're enjoying Fall & TFLookin'! Jeanne S.