Bittersweet Wreath Hanging & More Fall Decor
jeannespines
October 24, 2010
Yesterday DH & I went to a craft show & I came home with a couple bargains...this "Bittersweet" wreath (of sorts)...hung it on pillar between kitchen & LR (over the top of candleholder I keep there):
The lady who made it told me she was 8l y-o & had a heck of a time coming up out of the ditch after she cut it! She was laughing & telling her story...so I got a real treasure, here! Her 80 yo DH thought he might have to go down to help her up! LOL! Here's a close-up...bailing twine for the bow: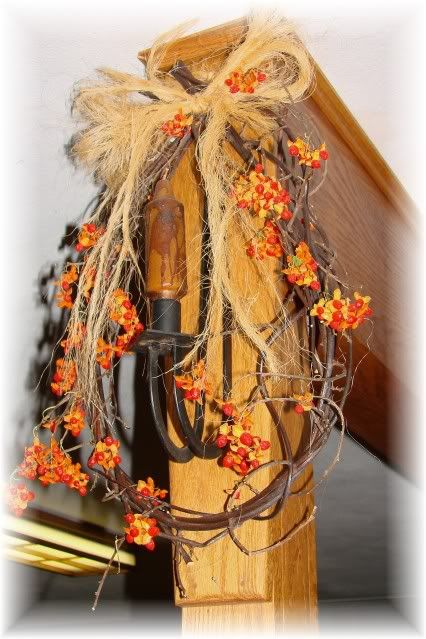 I'm growing Bittersweet on a arbor (planted last yr) but it has never bloomed ...grew wild & crazy over the hog panel arbor...but no luck...maybe next yr!
Just below this pillar is a ledge connected to the counter that I posted my "Glass vignette" today...here's a scarecrow gifted from a friend...& the little weaved basket made me think of partymusic, our basket friend...I found it for 50 cts at GS last mo! I added some "sedum" blossoms from garden:
Here's another pic of the ledge: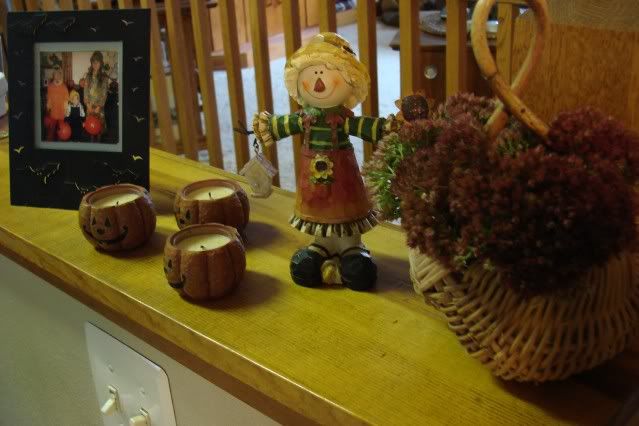 And, last of all, today I finished the Porch Wall Shelves...I showed a pic the other day of the bottom shelf. Today added white leaf dishes & pitcher & teapot to the next shelf..(it needs another pc of something?)...anyway, all of these are GS or TS finds this yr (since I've joined the Enablers R Us group!) LOL!
And, I've learned to move stuff around...so here's one of my girl pottery vase moved to top of shelf: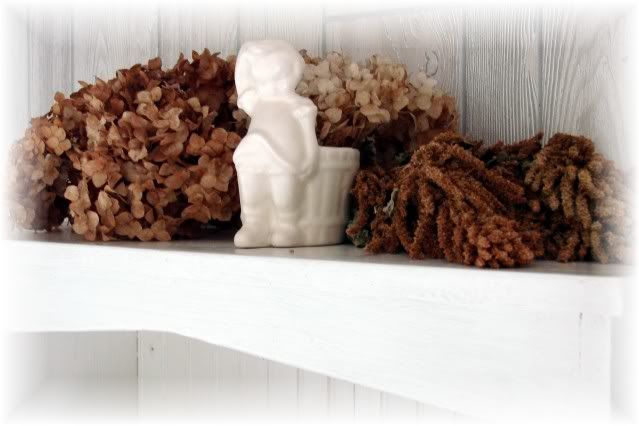 Here's the full view: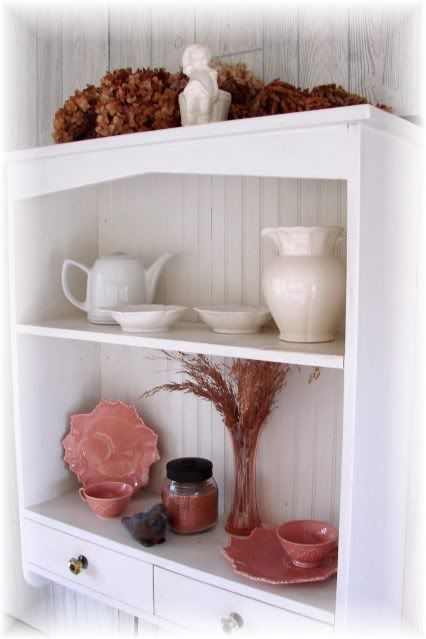 I used to just change out this porch wall shelf for Winter/Christmas...now looks like it will get a revival each Fall, too. DH made that shelf for me several yrs ago. I love it! Thanks for lookin'! Jeanne S.