Outside Bakers'Scape Fall Decor ...Harvest Time!(pic heavy)
jeannespines
October 22, 2011
Today I got in a few hrs of working outside & it was a gorgeous day here! Cold in the morn but nice enough for light long-sleeve shirt this afternoon! I got the Baker's Rack decorated for Fall w/my garden harvest: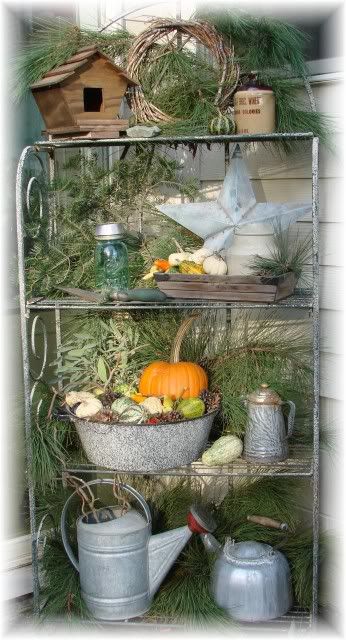 Starting from the bottom up...I cut pine branches from the pines & put a few Corkscrew Willow branches in old watering can (that I use):
I think I need an iron black cat there (instead of that bunny!)
Next shelf up is enamel pan that I grew my Herb Garden in on the patio this yr...I cut almost everything, added my garden gourds & a pumpkin I bought at Farmers Mrkt, ornamental peppers that took a freeze hit & a few pinecones: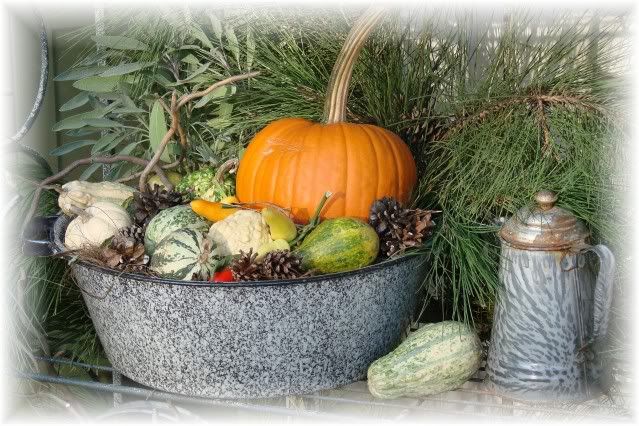 Moving toward the top is this metal star...a very popular item for some yrs now in home decor...I leave mine out all the time on this Baker's rack...the old blue canning jar has a solar light on it...which I made from a stake solar light...it's been out all summer on patio table & looks pretty cool at night when it shadows thru the metal grid to the ground...hope it will work good on the shelf here, too.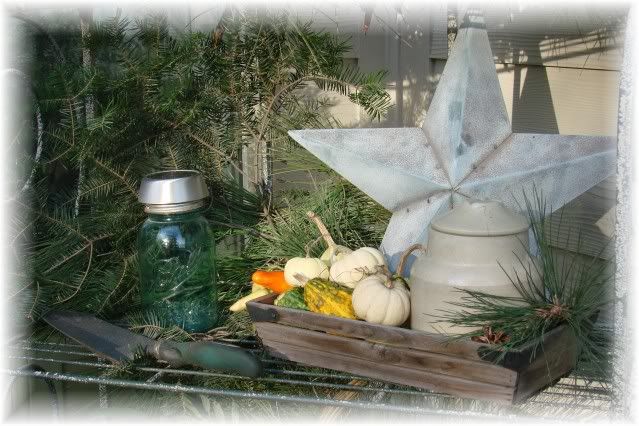 Top shelf...I love old crocks/jugs ...so here's one from the Amana Colonies in IA ...corked...so I leave it out in the Winter:
Here's another view of the whole Baker's rack...
And here's the leftovers to work with on another day...on my 'grate treadle table' on the patio: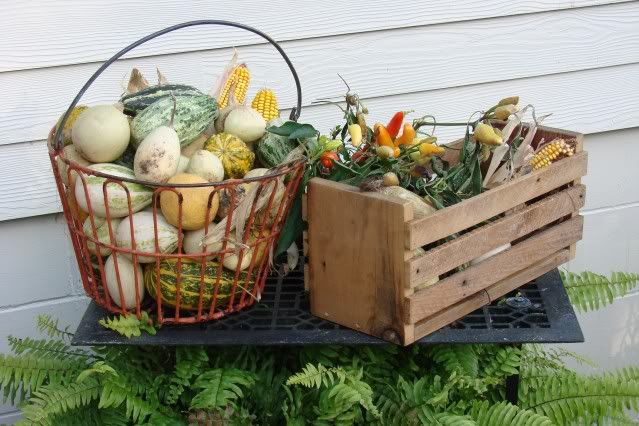 Hope you enjoyed this outside 'Bakers'scape!' TFLookin!'
Jeanne S.