Porch 'Old Door' Hutch changeover ...Yikes!
jeannespines
October 27, 2012
Ok, you 'Holiday-ers' have inspired me once again... how you change out your china closets & such ...well, I decided to give my 'Old Door Hutch' on the porch a bit of Holiday spirit for Fall.
I splurged on myself & ordered this Candlelight/Bowl from a friend's shop on Facebook & it came by mail truck yesterday! It looked gorgeous on my dining table but then I couldn't 'plug it in' ...so I gave in to your inspiring decorators!
Here it is in the old door hutch:
I decided to use 'white/off-white' pcs in the hutch ... usually this hutch houses the Heisey Lariat elegant glassware...so now I will have to 'store it' for awhile.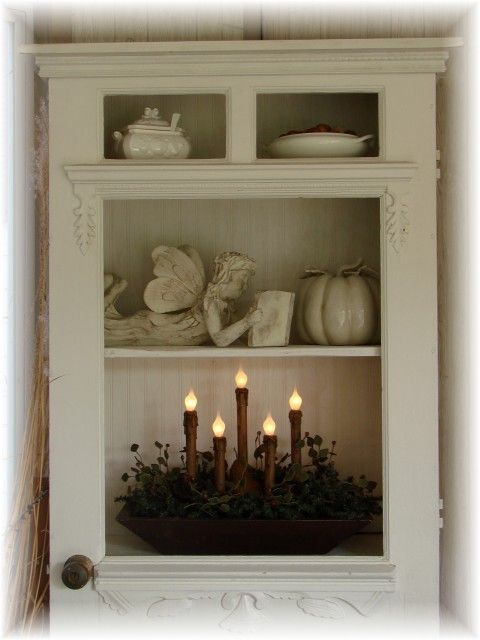 I would like a few more 'white' pottery pcs ... pumpkins or whatever ... but I had this turkey so I added him:
And here's the full view late this afternoon...cold temps here but sunny today!
I am a bit overwhelmed w/storage issues today! Most everything in this 'old door hutch' I've found thrift shopping or whatever ...since I've joined this forum a few yrs ago! LOL! TFLookin'! Happy Halloween week! Jeanne