Jack Is Back - Halloween Wedding
Some of you may remember seeing my friend 'Jack',
who's made an appearance here for the past two yrs...
He's the 'Guy up in my Attic'.. who always looks at me with eyes that say
'Is It Time Yet - Is Halloween Here?'...
I've had him for 4 yrs..he was a (Dept 56 Gift from a Friend)...So this year, not to disappoint him,
'He's Back'!
This time hosting a 'Haunted Halloween Wedding'.
My oldest DGS picked out 'The Creepy Couple'..(not my choice) but how could I say no.
As you can see, Jack is dressed in his finest, and is All Excited...Can't you tell from 'The Look' in his eyes!
The table is set, the candles are lit, and everything is ready...
Ahhh....The Couple Have Arrived... Do You Think They Notice How Fancy The Table is Set?....
OR - Do They ONLY Have Eyes For Each Other?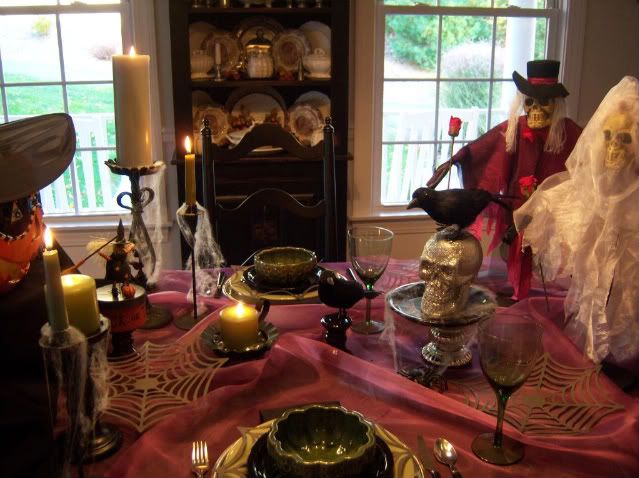 Of Course I used my CTS Green Pumpkin Bowls $3.99 ea - Black Salad Plates from Walmart $.75ea - and a Spiderweb Doile...to make it extra fancy....
I'm sure they're impressed by my Green Stems from HGs..and My Tablecloth - Purple Chiffon (Joanne's) layered over Black - for Drama!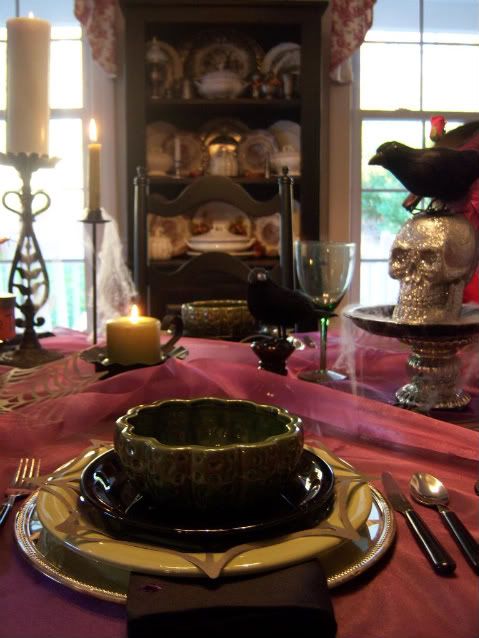 And...to top it all off...A Few Of their Favorite Friends to help Celebrate!
Well...soon Jack will be Back in the Attic..but he was so happy to share his 'Wedding Table' with you...
and sends his Regards & Wishes You All -
A Happy Halloween!.... See you next year!!!
jane