Vintage Steubenville Woodfield Plates on Wall Shelf
jeannespines
October 30, 2011
More porch decor from this past week ... this collection started w/the purchase of one "Vintage Steubenville Woodfield Salmon Pink Tea & Toast Plate & Cup Set" for $5 last yr while vacationing in MN...I've shared it before.I hope to do a t'scape yet this Fall w/these dishes...they were made between 60-70 yrs ago according to Internet research info.
Here it is on my wall shelf on the porch decorated for Fall:
I need to purchase some more little stand-up plate holders as I would like to have a couple standing in the bkgrd on this shelf. HLobby has them for $3.99 ea so I'll save my 40% coupons for awhile.
Here's the next shelf down...I got that cool blackbird candleholder last yr: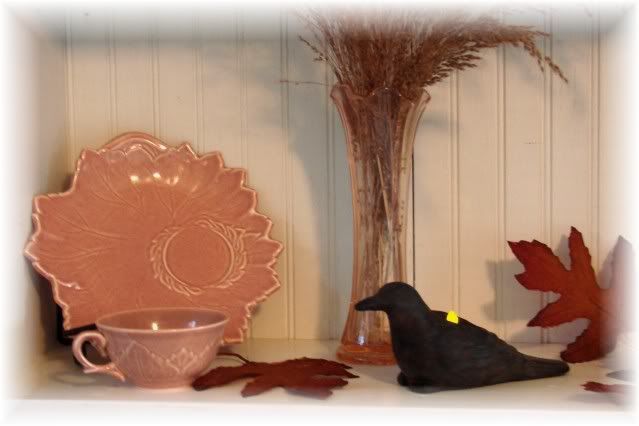 And here's the top of the wall shelf w/dried Hydrangeas from my garden & another dried grass I bought at Farmer's Mrkt last yr...the single tapered candle is battery (but not remote...like Jane's):
And the German farmer pic was probably once a scrapbook cover...I found it at an antique store. Here's a full view of the wall shelf:
See, don't ya think it would look better w/some plates standing up on that top shelf! From this pic, I see it needs some tweakin'! ;-)
These little white pumpkins I got for a gift last yr ... & I put them on my Hoosier (game cabinet) on the porch...the 2 white flower candleholders were a TS purchase this summer:
And I layered up this centerpc w/a 'bumpy' candle that I usually use in the glass cage on top of china closet near dining room..candle on a metal leaf candleholder, then poporri & Sango Contrast Brown dinnerplate I got on clearance a yr or two ago.
TFLookin' & Happy Halloween! Jeanne S.