Another Debbie Mumm Halloween Table! (pic heavy)
I can't believe it's been months since I put together a tablescape. I almost forgot 'how to' !! lol
Well what a perfect way to 'get back into it' than a
Halloween Table!
I found these dishes at GW back in Sept...funny that Candy should find a set there too. Mine are also 'Haunted House' but with four different patterns...go figure.
As a bonus, there was an extra 5th dish in the box.
I took a photo of the box showing the original price from Kohls' and GW's price...which is hard to see $6. Not as quite a bargain as Candy's...but for New England prices...I'm happy.
I mixed in old things with newly purchased from TS etc.
I bought the flatware at the end of the Summer online.
It's a burnt orange color which will work for Fall/Halloween and Thanksgiving TScapes.
I bought the 4 little Halloween Character heads at CTS for $1 ea, and tucked them into ea napkin.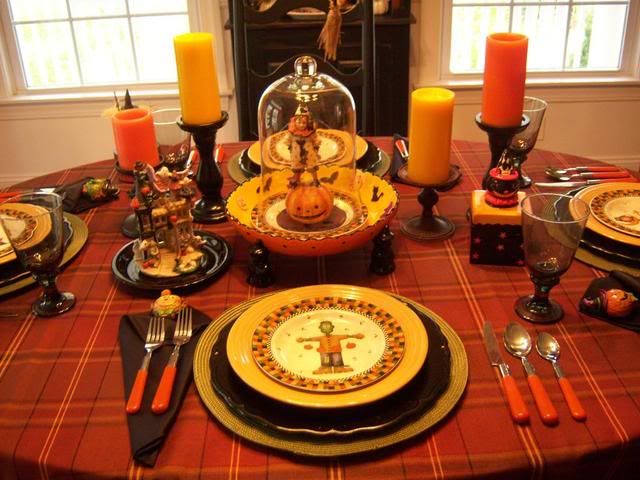 I couldn't resist this piece which I got a few years ago..it's a Bethany Lowe.
This little guy reminded me of my oldest DGS when he was this age.
Famous 'Candy Shot'...not quite as agile as her.
When I was taking this picture I was standing on a chair.
DH walked in and in a panicked voice said 'what are you doing'..which I replied 'I'm taking a Candy Shot'! He said I don't care what kind of shot, with your history of falls...get down now! I guess I would have done the same to him, because he has a record for falling and breaking bones too!! We make a good pair.
I bought this witch at a Flea Mkt last yr...she looks like the 'Sister' of DH's painting !!! lol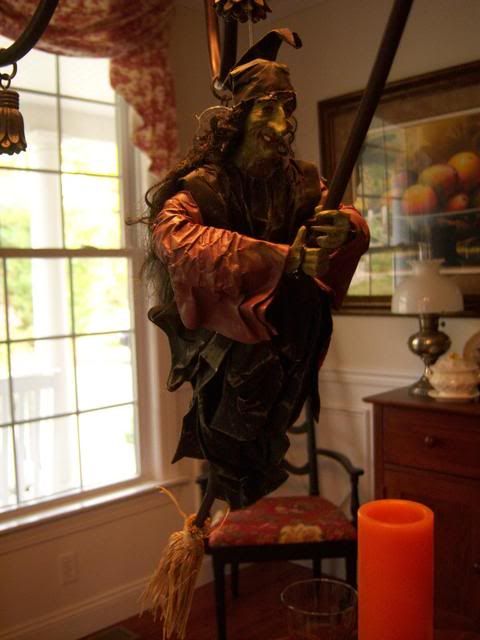 Finally - this is a little lighted Haunted House I bought at a TS for $1. I didn't have any for Halloween...but now I do!
Thanks for looking.
jane