Fall Tree Decor & Barnwood Bench Bonus!
jeannespines
October 11, 2010
Worked on some more Fall/Halloween decor today & got my Fall tree up on the porch: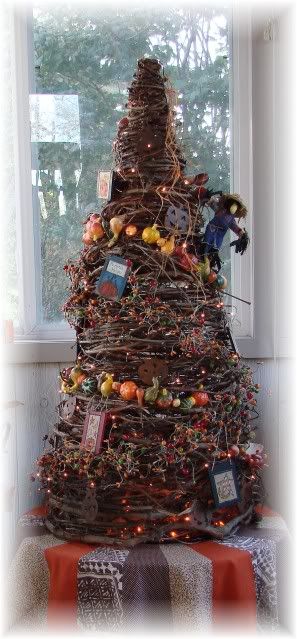 Used this wonderful pieced round tablecloth that I got at an estate sale last yr...Fall colors, for sure! (& I even ironed it...LOL. This yr I bunched up 2 strands of old orange mini-lights & put them on a metal "charger" under the tree...left my plain white rice lights on tree that I use for Christmas decor:
Some close-ups on the tree...bought these wood ornaments handmade by someone at a consignment shop on clearance after the holidays a couple yrs ago ...looks like she painted the wood, cut fabric squares & mod-podged, drilled holes to hang...I love 'em...used them for a few yrs. now:
Here's another close-up of tree...a scarecrow pick & faux miniature pumpkins & gourds & metal pumpkin faces I took apart (was a swag):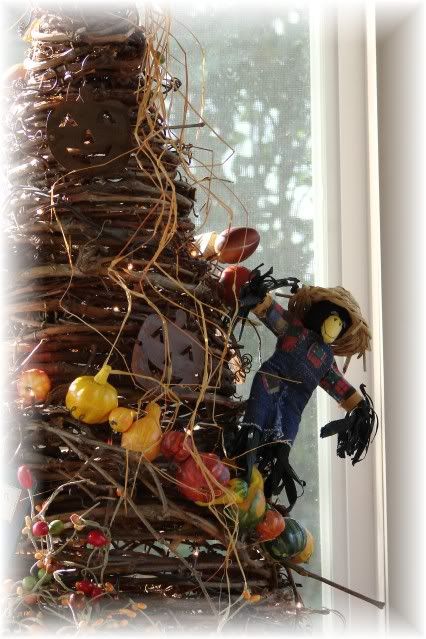 But here's my new addition this yr...this wonderful old barnwood bench my DH made for our Farmer's Market sale on Sat...well, it didn't sell...so I snatched it up for the season! Isn't it cool! Love old barnwood. Basket is filled with FMrkt pumpkins, gourds & stuff I had here at home...dishtowel for linens & paper leaves:
And then I thought, wow, I think luv's Halloween wooden blocks would look cool in this area & you could see the frontside on the porch & backside when outside in porch garden! So...here they are...I love 'em!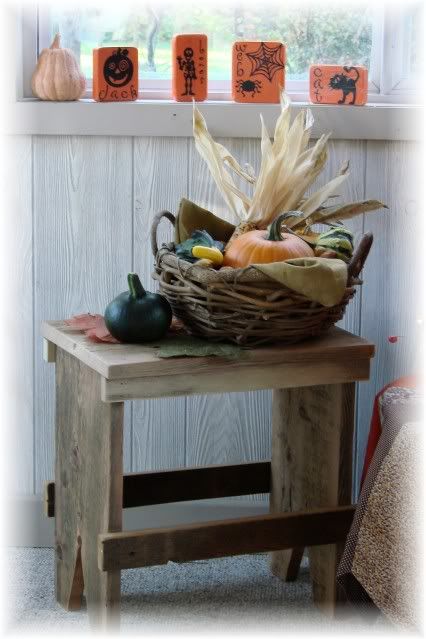 Closer view...aren't they great!!!
And, here's the whole works! Will look pretty nice when it gets darker: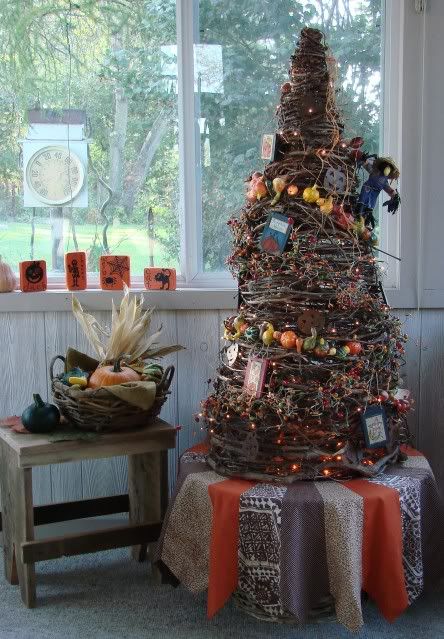 Thanks for lookin'! Enjoy the season! Jeanne S.