Urn Willow Lights Arrangement + Glass Vignette (pic heavy)
jeannespines
October 24, 2010
I had fun this afternoon getting some new arrangements done for Fall using the yellow pottery urn I posted last week & some GW & TS glassware (here's pic from Oct 20th):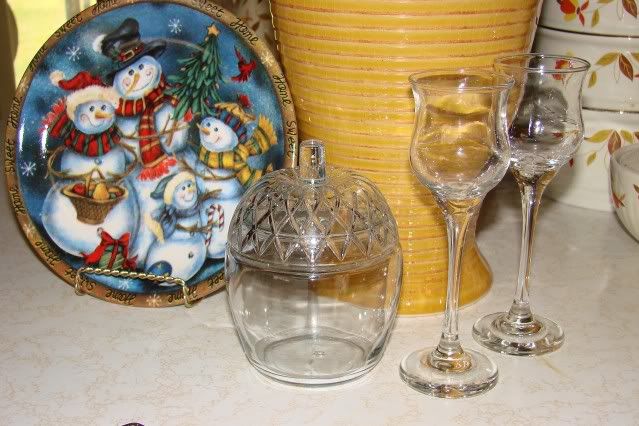 Here's a countertop vignette I put tog today.
I tried various runners, placemats & doilies & such underneath ...was wishing I had a glass tray ...& then, A-Hah!...I remembered luckygal using a silver tray...well, I didn't have one...so I took this old mirror off my computer room door...and ...walla: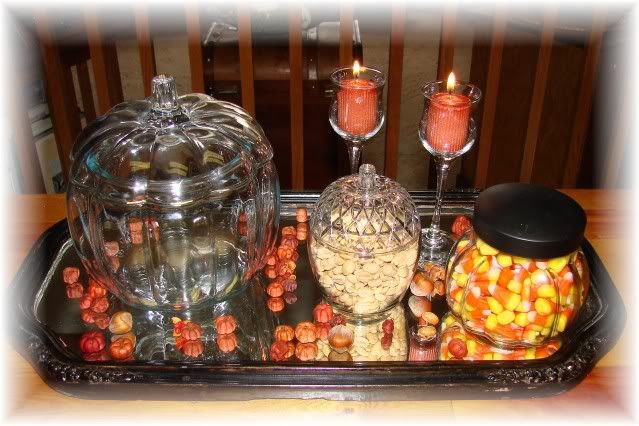 Here's a "no flash" pic & also the very lovely fall pumpkin swag I found 40% discounted last wk on shopping trip with friends...it will be used on my buffet with Tksgiving decor after Halloween:
I filled the glassware with "goodies" for GK's coming home next weekend...hope the candy doesn't disappear before then! LOL! Cookies will go in the pumpkin jar later.
Then I went outside (nice day with a little rain) & cut branches of Red Dogwood ...decided that was what I was going to use with the Willow branch lights in the TS urn from last week. I also cut (sparingly) from my fav bunch of grasses in the pool garden. I love this grass...as it dries & ages, it gets fuller...here's a pic of it in my outdoor arrangement on the house that I took today:
and here's some of that grass in the wall basket above buffet...grass gets fuller/fluffier as it dries/ages: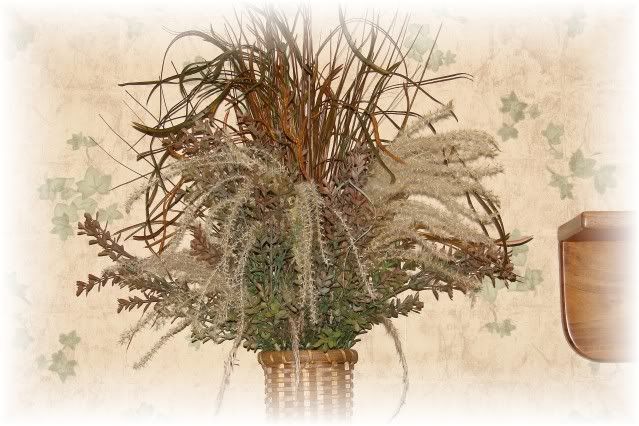 And here's the arrangement in the yellow pottery pc: (with flash)...you can barely see the grass, but it will look even better later!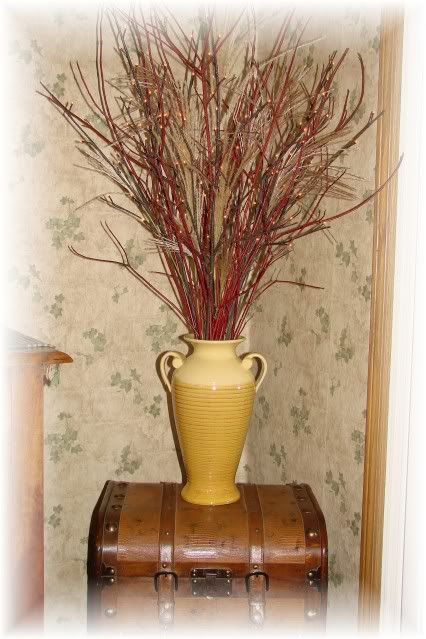 My fern stand that's usually there was too tall for the urn...so I moved the luggage-looking table from the LR into this corner by the buffet. It worked out good as I have a small house & must move something when Christmas tree time comes...I like how it looks:
Here's a close-up of a little brass mouse that I added ...Enablers R Us ... that's where this idea came from...I think someone posted a blog with a black hand & a critter! LOL!
Did a little changing on the buffet but like to keep "apple" decor up til Tksgvg ...did add a green pumpkin gourd in a lantern type container (very popular this season, as you know)...this one is brass/glass: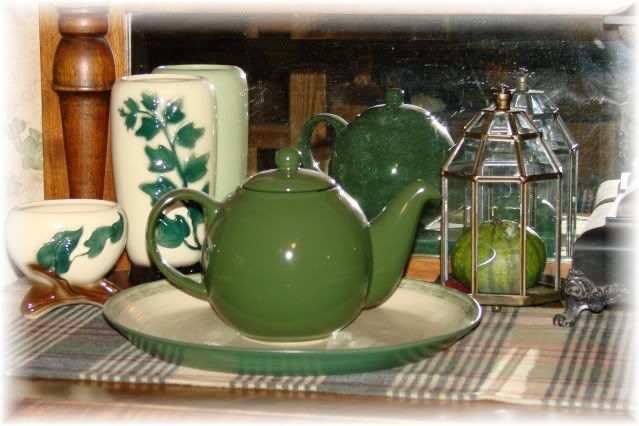 And here's what the buffet area looks like with the urn:
Thanks to you "Enablers R Us," I had alot of fun using diff ideas from here! Jeanne S.