Dollbaby ready for Fall!
jeannespines
October 1, 2011
Here's Dollbaby decked out in her Fall decor...I didn't want to put Halloween out yet ...(where did summer go?)...
So, she got a new (old) TS outfit yesterday ($6 total) ...shirt, pants, & socks...here's a full view in her high chair:
Here's a close-up of her cute "kitty" appliqued shirt!
And here's her t'scape tray...the black bird (nope, doesn't look like a crow, does it, but it's black) is a knick-knack my G'ma gave to me many, many yrs ago! The crystal leaf holds some mini pumpkins & such ... the (safe faux)candle :-)... was a shopping trip w/friends buy...& the ?kitty/bear/dog?pumpkin (it has a long tail! LOL) was a b'day gift some yrs ago: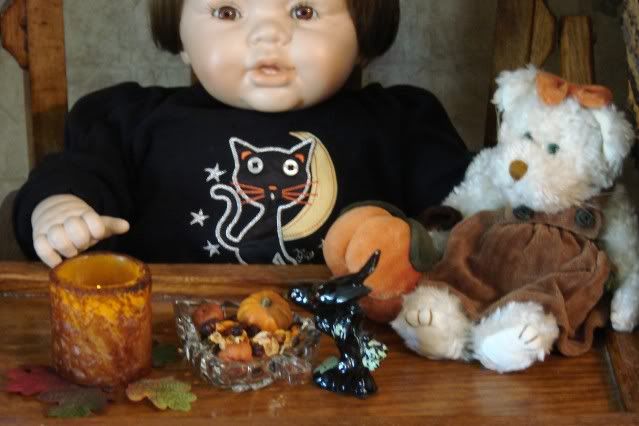 Now Dollbaby will be ready for Halloween when I add some more goodies later in the month...like her witch hat & a new cute $1 GS find this winter! TFLookin'! Happy Fall! Jeanne S.