Fall Dining Room Decor including Dollbaby!
jeannespines
October 1, 2011
I've been working on my Fall decor in the Dining Room area cause that's where Dollbaby hangs out! I so enjoy all the pics on this forum & the ideas so now I am changing out my buffet much more often!
This is the left side of the buffet...the metal leaf I took from my bedroom wall, the ceramic pumpkin is a HLobby half off find last yr or before...& the pumpkin garland I found at specialty store after season sale:
And, yes, that's the new 'leather' runner I bought in MN on vac that I shared a couple wks ago!
The right side of the buffet has a new resin squirrel on a giant acorn (that I just purchased at a specialty shop)...he sits on a Pier I Import square plate (old bargain find) & a new Fall candle ring. Squirrels are happy critters around our place ...so I fell for him LOL!
Here's the buffet mirrored view w/Jewel Tea dishes reflected from countertop: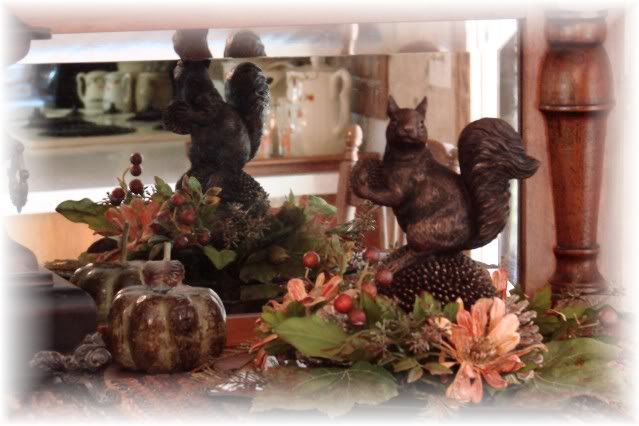 Countertop Jewel Tea Autumn Leaf is here til Christmas comes out! I love these dishes & have been collectingabout 20 yrs. now since getting a few pcs at DH's parents' estate sale.
S&P shaker, too & spoon rest: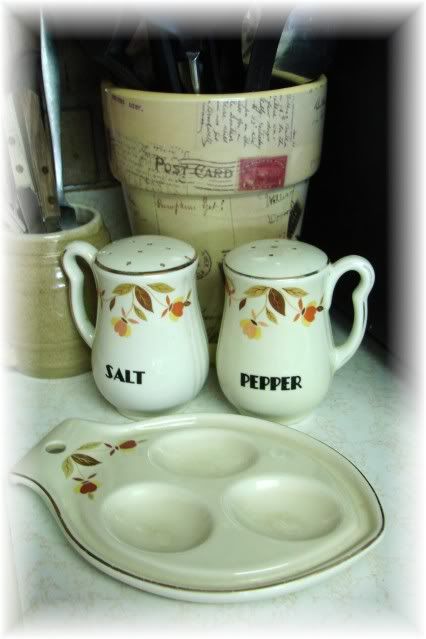 To the right of the buffet I've moved my luggage-like drawered dresser again to the DR ... yellow vase (TS last yr) w/lighted stems...added some Red Dogwood stems & some of my grasses again & a stem of faux leaves (needs a few more, I think)...plus it looks much prettier at night!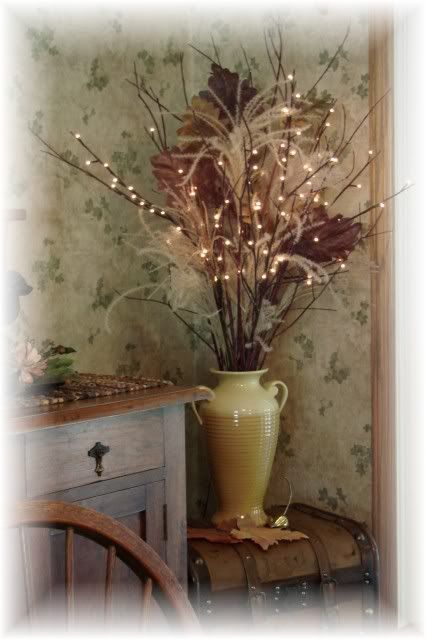 That GS brass mouse came out again, too!
To the walnut shelf above the buffet is another fav print you've seen before ...the farmer & young man tying corn shucks...this print was DH's Gr'pa's from estate sale...it was an award for 'Outstanding Sales Achievement' 1959-60 (seed corn sales). Makes me SMILE! ;-)
The other framed art I like to bring out for Fall is this woman with wheat...this was the bargain I got last yr at TS when it went half price!
And here's a full-view of Dining Room decor...I'll post Dollbaby on a separate thread...looks like I'm pretty pic heavy! TFLookin'! Fall is so beautiful...the trees are starting to change more & more. Jeanne S.