19 hours to finalize vanity design - please help
I am meeting with the cabinet maker tomorrow morning to finalize the design of our vanity so they can build it. We need to get the project finished quickly so we can re-fi our mortgage while the rates are still good. I am re-thinking some of the elements I originally put together with our designer months ago.
Here are my 3 questions:
1. Stick with planned floating vanity (7" above floor) or standard vanity with 4-5" high toekick?
2. The top door on the tower is 42" high x 16" wide. Should I use the top 12" as an open display niche to break up the tall skinny door?
3. What heights should the drawers be? Should I do a mix of doors and drawers or all drawers?
Overall plan: The bathroom is roughly 13' x 6'. There are 2 pocket doors that separate the vanity area from the master bedroom and the toilet and shower area. The vanity is 76" long, and there is a 38" wide "wing" wall on each side. The vanity cabinet will be 26" deep because there is a 4" deep x 12" high x 30" wide tiled ledge behind each sink. In the center, there is a 16" wide x 54" high x 11" deep storage tower sitting on the counter. The tower only projects 5" onto the counter; the rest is in the 6" deep wall cavity. The bottom 12" of the tower will have a lift up door and outlets for small appliances. The upper door of the tower will be a framed mirror. Cabinets will be walnut with slab front drawers and horizontal grain (except tower sides might be vertical grain, not sure which way to go on that one). Overall look should be modern: One watery blue accent wall in shower, blue tiles on vanity ledges, rest of the tile is large format gray, white quartz counter, chrome fixtures.
1. Floating vanity: I love the look of floating vanities. We planned to float it 7" off the ground so we don't lose too much storage space. I am starting to wonder if a floating vanity will look right in this particular bathroom. In most of the pictures I have saved of floating vanities, the cabinet is wider and shorter than what we will have, so there is a stronger horizontal element. The ledges and tall cabinet on the counter also weigh the design down a bit, so I might be losing the look that makes me love floating vanities. A regular vanity would allow an extra 2-3" of height for storage. We already ordered enough floor and baseboard tile to go under the vanity, but we won't be out a lot of $ for the tile if non-floating will look and function better.
2. Tower: Should I leave the top part of the on-counter tower at 42" H x 16" W with a single door for maximum concealed storage, or should I reduce the height of the door to 30" and have a 12" H open display niche at the top (I'm not sure if we can add a light to the niche at this point without significant extra cost). The primary reason for the open niche would be if the 42" H x 16" W door will look too tall. The niche would be the same height as the little flip-up door at the bottom of the tower.
3. Drawer heights: The cabinet will be 36" high, including the 3/4" thick counter, so we have approximately 28" of storage height with a floating vanity and 30-31" with a standard vanity. My designer suggested two 14" high x 29" wide drawers under the sinks on each side, with four 7.5" high x 18" wide drawers in the middle for the 28" high floating vanity. The top drawers under each sink will have to be cut to fit around the plumbing. Her drawer size choices will look really good, but I'm not sure those drawer heights are the most functional for use. The usable interiors of the drawers is about 2" less than the drawer face. Most of our toiletries would be dwarfed by 14" high drawers. The 7.5" high drawers would waste space for small items like cosmetics. Ideally, we need two 5.5-6" H drawers for small items. I have a lot of items that are 4-6" tall (8" drawers) and 6-8" tall (10" drawers). I have a smaller amount of items over 8" tall, and only a couple of items (lotion and mouthwash) that are over 10" tall and thus need something taller than a 12" H drawer. A mix of several different drawer heights would work best, but probably look terrible. If I do drawers everywhere, it is important to me that the horizontal lines between the drawers match up across the whole vanity. I could just do doors under the sinks with pullouts for taller items, and then have shorter drawers in the center. Drawers make for easier access than doors with pullouts, put the pullouts allow for more height variation and give me a place to put a small trash can under 1 sink.
Options I have considered: Floating: (a) two 14" drawers on sides & four 7.5" drawers in center (designer's plan); (b) doors on sides and 6-6-8-8 drawers in center; (c) 18" high door over 10" high drawer on sides and 6-6-6-10 drawers in center. Standard vanity: (d) 6-12-12 drawers on sides and 6-6-6-12 in center; (e) doors on sides and 6-6-9-9 drawers in center; (f) doors on sides and 6-6-8-10 drawers in center; (g) 20" high door over 10" high drawer on sides and 6-6-8-10 drawers in center; (h) 18" high door over 12" high drawer on sides and 6-6-6-12 drawers in center.
Which option would you choose, or do you have another layout I should consider?
Vanity Sketch:
Overview of bathroom:
Inspiration pics:
Storage tower and ledge like this, but with tower down to counter. (Looks nice with floating vanity here, but our vanity would not be this long):
Contemporary Bathroom by Palo Alto Architects & Designers square three design studios
Tower with appliance storage at bottom, probably with lift up door like 2nd photo: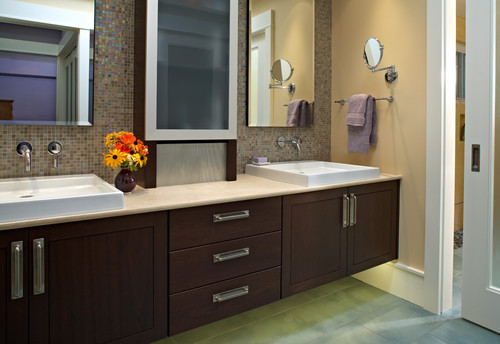 Contemporary Bathroom by Mountain View General Contractors Harrell Remodeling
Modern Bathroom by Portland Interior Designers & Decorators Angela Todd Designs
Picture this with a single open niche at top of storage tower:
Modern Bathroom by San Francisco General Contractors Bill Fry Construction - Wm. H. Fry Const. Co.
TIA!