'Guardian Angel Day' - Oct 2nd Tablescape (pic heavy)
jeannespines
October 2, 2010
I picked "Guardian Angel Day" from Purplemoon's Oct holiday list & did a t'scape today...been wanting to do a B&W one ...so I had alot of fun doing this one! Bear with me any imperfections as I am learning! One thing I learned this week (from kathleen, I think) is BIN ..."blade knife in." Sunlight is streaming in thru the sliding doors on this porch table:
The octagon shaped black plates I purchased at GW this summer for $1 ea & also a set of 4 salad bowls for same price...says "France" on backsides. The Spode bread plates I got at a TS about a yr ago when I got hooked on the Holiday Forum....love 'em. The white plate is Pier I I've used in other t'scapes. Here's a close-up:
Silverware is Hampton Oslo Hammered (discont) ...I only have 2 place settings & am constantly on the look-out for more!
Here's a fuller view of the t'scape...the t'cloth is fabric I purchased at HLobby on sale $5 yd...the print called to me cause of the Spode plates...2 yards didn't cover my table...I am going to make napkins & place mats with the fabric later. Glassware is very old ... gifted to me by my Mom yrs ago who saved it for me in cedar chest).. I've broken some & tried to replace...ahhh, that's another story for later...I rattle on.
The flowers are hyrdrangea's from my gardens....they change colors & are in the drying stage now...white ceramic pitcher I made my G'ma in the 70's & she gifted it back long ago. Salt & pepper shakers a wedding gift for DH & myself:
The framed works I took from my wall in computer/craft room...it's a gift from my sis & I filled it with fav family pics I printed in B&W. Here's a closer view of S&P & framed prints: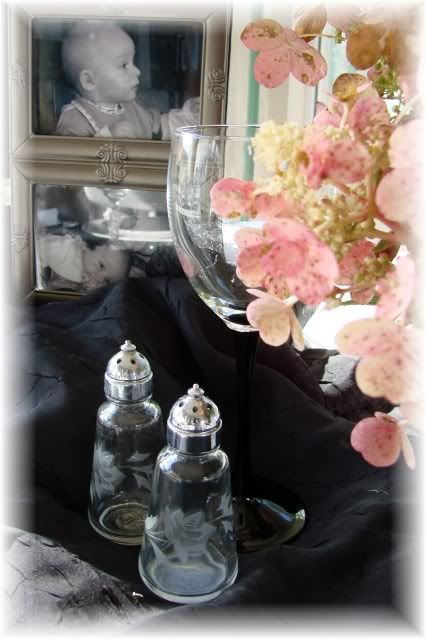 I based this "Guardian Angel" holiday with this statue in mind...I keep it close to my heart...I gifted this to my Mom when she was very sick: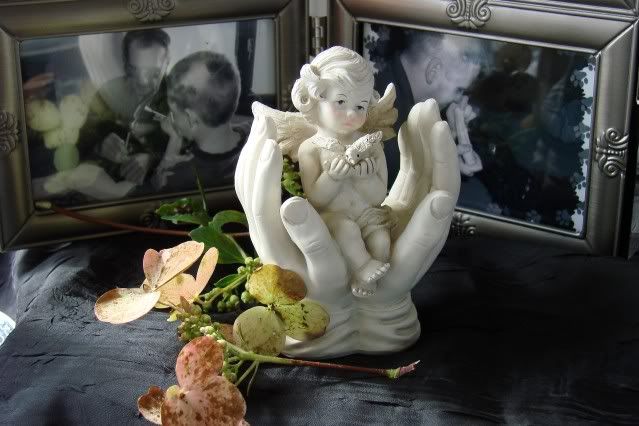 Guardian Angels...family, friends & His hands to lift you up. Here's the last pic...full view of the table...too much sunlight filtering in...but who doesn't LOVE the sun! TFLookin' ... Jeanne S.