Sheet vinyl flooring-Photos of small bath update
We have renovated 99.9% of our modest cottage, which is located in a starter home neighborhood in Northern CA. This was the last cosmetic update needed, propelled by a leaking toilet. It turned out to be just poorly seated, but when the old flooring was pulled up (ugly cheap cracked original tile from 1940), dry rot from a once-leaking wall had crept into the subfloor.
So it was time to bite the bullet and replace the floor. Unfortunately, we ran into an unforeseen problem: we wanted (different color) of the excellent solid vinyl Metroflor tiles we had installed in the kitchen in 2003. But Wal-Mart has apparently sewed up the entire distribution of these tiles, at least in our area. They're only available on the website, and both samples and orders have to be shipped out.
Time being a factor, this wouldn't work. So we returned to the local flooring store and were pleased to discover that sheet vinyl has made tremendous strides since I last looked at a zillion floor samples back in 2003.
We chose Mannington's Stainmaster, Lava Stone line, in the color "Woodland Green" (mfg code S-3081). The naming doesn't really match the colors in this sheet vinyl; the 'green' is a very pale gray with a sage green undertone. The colors in these photos are a fairly accurate match. We were being picky about the flooring because the existing cabs were staying, and we needed something that also coordinated with the original oak flooring everywhere else. We're very pleased with how it came out.
Long shot towards the window, before the new Toto Aquia toilet went in. We like this toilet, it works well, although we prefer the Toto Ultramax in our master bath.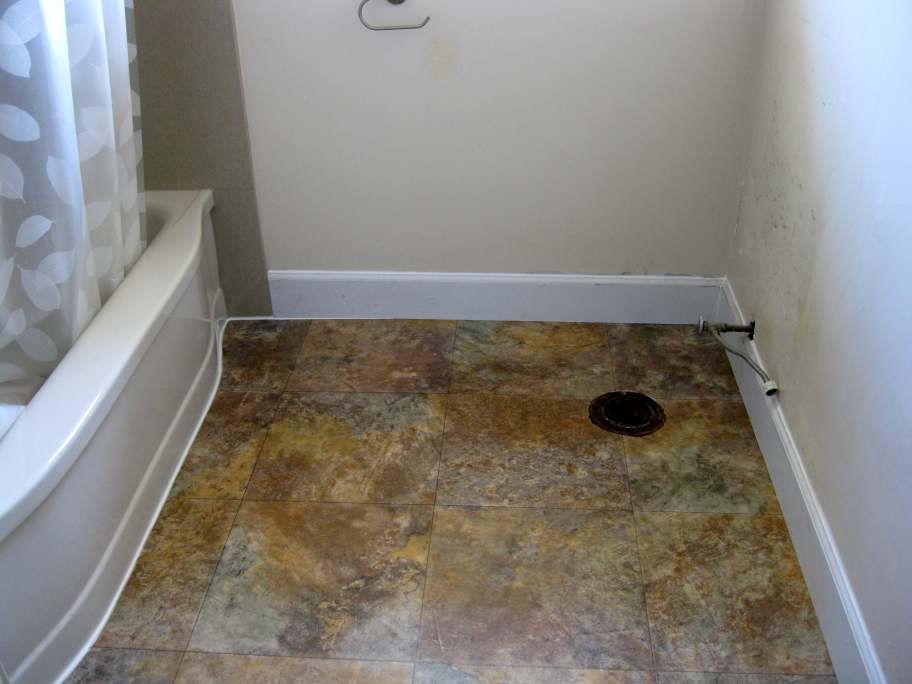 Turning the other way, towards the entry door and showing the sink cab. The tub is to the right of that pony wall on the RH of the photo: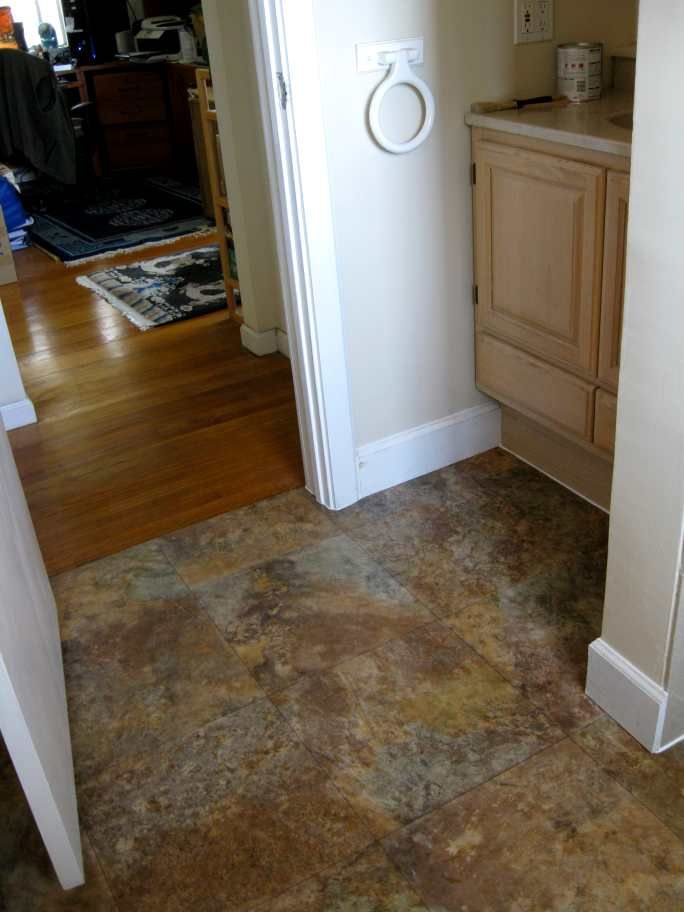 Close-up of the flooring. It was a 12' roll with 48" repeat and 16" match. The bathroom is 5-3/4' wide x 9-1/2' long.