Help with updated floor plan - Summerfield can you help?
auroraborelis
May 25, 2012
After getting a first few rounds of feedback and thinking long and hard about what we are looking for we have made a few modifications to our plan and I'm looking to all of you for advice!
What we are looking for in our house? Well, a 3 bedroom + office 3200 sq ft-ish great room floor plan with some seperation between the kitchen and living areas, however in a way that still keeps it all open.
After looking at many homes we have decided that we love the layout of our plan, with the kitchen in the front, and the dining room and living rooom in the back. For an example of a floor plan with a similar set up have a look at this home tour:
http://tours.tourfactory.com/tours/tour.asp?idx=1&t=805157&sreferer=www.mlslistings.com&home=www.mlslistings.com&slink=-2 (only the kitchen/dining/living area is similar and it is a touch smaller)
So, here is the plan:
The stairs at the far end lead up to a bonus room and eventually, another bathroom and bedroom, the stairs down lead to a utility room, media room, and wine cellar. The bonus room will many be for our kid(s) (I'm currently pregnant with our first) and the media room will be a high end theatre room - someday! :) ha I know it is under the kids rooms and we have to walk by those rooms to get to it, but due to the stairs up needing to be at that end of the house we couldn't come up with a better solution.
In the kitchen we will have a portion of the island drop down to regular counter height to make it easier for kids to eat in the kitchen (and not have to sit on bar stools)!
Oh, and the garden outside the master bath is a small walled garden so when you are sitting in your tub it looks like a tropical garden out the window. Just a small thing I saw once and always wanted!
Here are some inspiration photos for our main room:
traditional dining room design by photographer Elad Gonen & Zeev Beech
traditional dining room design by orange county design-build Spinnaker Development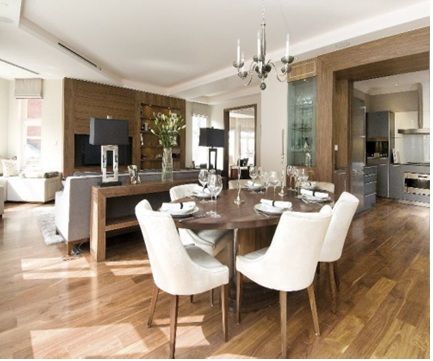 Specific questions
- Can any of you see a way to move the closet in the bedroom close to the stairs so it isn't behind the staircase? I would love to put windows in the stair case.
- I'd love help with the masterbath layout!
- Anything else I'm missing?
- I don't want a covered patio over the back of the great room/dining, however I do need an outdoor cooking/dining space nearby. Any suggestions on how to make this work?
- Anything else to help with the flow?
Oh, and here is our front elevation inspiration (only now with the garage facing forwards, though we are flexible on that: